Orphan Black, Mommy sweep Canadian Screen Awards
The Tatiana Maslany-starring drama earned 10 trophies at Canada's screen awards, while Xavier Dolan's family drama earned nine.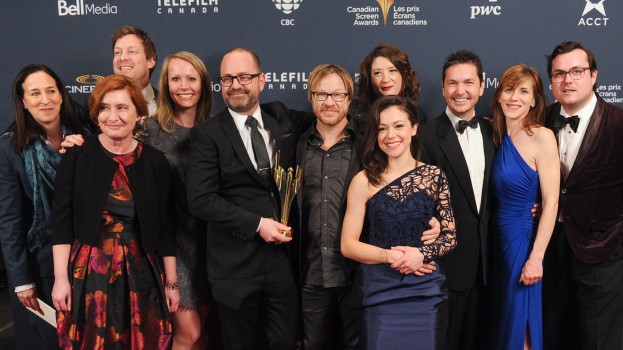 Orphan Black completed its sweep of the TV categories at the Canadian Screen Awards, winning for best TV drama while while star Tatiana Maslany was named best TV actress on Sunday night.
The latest two wins came on top of eight trophies earned by the Space clone drama last Wednesday night during pre-telecast prize-giving.
Orphan Black came into the Canadian Screen Awards with 13 nominations, tied with Xavier Dolan's Mommy, which swept the film categories with nine trophies on Sunday night, including best picture.
David Cronenberg's Maps to the Stars, which had 11 nominations, in the end came away with two trophies, for John Cusack as best film supporting actor and Howard Shore for best original film score.
Otherwise, Sunday night belonged on the film front to Mommy, which earned Dolan the best directing, screenplay and editing trophies, and acting prizes for Anne Dorval as best film actress, Antoine Olivier Pilon as best film actor and Suzanne Clement as best film supporting actress.
Mommy also grabbed two craft trophies for best cinematography and best makeup.
Elsewhere, the historical disaster epic Pompeii earned four trophies: best art direction, best costume design, best sound editing and best visual effects.
And Super Duper Alice Cooper won for best feature length documentary and best documentary editing for Reginald Harkema and Alex Shuper.
"Alice was great to the point where, he's a Christian and he covered up his cocaine problem and we just wore him down with questions," Super Duper Alice Cooper co-editor Reginald Harkema told reporters backstage after his wins about making their rock opera about the pop music icon Alice Cooper.
Other TV category winners Sunday night included Call Me Fitz being named best comedy, The Amazing Race Canada winning for best reality series, and Bomb Girls: Facing the Enemy earning the trophy for best mini-series, while star Jodi Balfour won for best mini-series actress.
"We really set out to wrap ourselves in the flag… and there's a growing confidence about who we are, and great storytelling and characters," The Amazing Race Canada executive producer John Brunton of Insight Productions said backstage, explaining the success of the series.
"It's bittersweet. Let's look on the positive side," Bomb Girls: Facing the Enemy executive producer Janis Lundman said following the program's CSA wins, noting the two-hour departing TV movie on Global Television also streamed on Netflix Canada.
Call Me Fitz creator/executive producer/writer Sheri Elwood also noted her comedy was headed to its final curtain. "It's for our last season. We all came into these awards knowing it's bittersweet as it's the last hurrah for the Fitzers," she told reporters backstage.
Acting categories wins also went to Jonas Chernick for best mini-series actor for his performance in The Best Laid Plans, while 19-2 star Jared Keeso won for best drama series actor.
"I could not have less interest in politics. It's embarrassing. So I had to brush up on my Canadian politics for the show," Chernick said backstage to reporters on his participation in the CBC political-themed mini-series.
And Joanna Cassidy won for best TV comedy actress for her star-turn in Call Me Fitz, while Don McKellar won for best TV comedy actor for his role in Sensitive Skin.
"This is really great. And I'm American too. When I think of Canadians, I think of Mounties," Cassidy said on stage when accepting her award.
Other winners: Space Riders: Division Earth was named best digital series, and Vikings won for best international drama.
The Canadian Screen Awards aired on the CBC and were hosted by Andrea Martin.