Vice Media creative topper urges producers to think globally
Vice Media chief creative officer Eddy Moretti tells Playback Daily Canada is a major lynchpin in the youth brand's global expansion.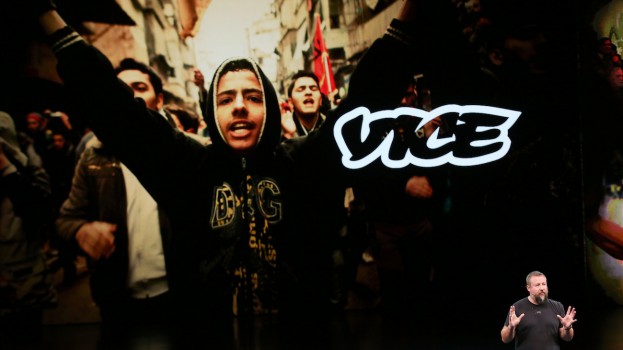 Vice Media creative topper Eddy Moretti on Wednesday told indie producers looking to work with the youth brand to expand beyond Canada to reach a world market.
Moretti, chief creative officer at Vice Media Worldwide, told a Canadian Screen Week pitch session hosted by the Academy that his three-year, $100 million partnership with Rogers Communications aims to greatly increase the mobile, online and TV content coming out of Canada.
The goal is to target Canadian audiences with homegrown content for varied platforms, and in turn to distribute that Canadian content to Vice Media's network of 36 international offices and markets.
Vice Media is known for its documentary/factual fare, which it distributes via its online channel network aimed at an advertiser-friendly young male demo.
But Moretti said Vice Media, while prizing Canada for its expertise in factual programming, told local producers it was open to pitches for scripted fare and movies, and was becoming less "dude" as the youth brand did more to target young female audiences worldwide.
To be certain, Canada will be just one spoke in the wheel as Vice Media, backed by major cash infusions from A+E Networks, Technology Crossover Ventures and Rupert Murdoch's 20th Century Fox, aggressively pursues global expansion.
"In Canada, we started on our own, and decided a partnership with Rogers was the best way to reach audiences coast to coast," Moretti told Playback Daily about a pact that includes an upcoming Vice Media-branded Canadian TV channel.
Other strategies will be pursued to expand elsewhere internationally.
That said, with Vice Media and Rogers building new production studios in Toronto and Montreal, Canada will be a major lynchpin in that global expansion.
"We're setting up a production studio, so that will be running as any other Canadian production entity. It's just that the ideas will come in from the Canadian audience, the Canadian fans, the Canadian creators, producers, and [be] made by Canadians, but [also] may come in from the rest of the world," Moretti, who was raised in Toronto before heading to New York City during the late 1990s, said.
That means Vice Media, where possible, will produce cross-platform content in Canada to take advantage of available tax credits and subsidies.
"Sometimes productions need to exist close to the people that originated the ideas… But we have a huge new resource in the global Vice footprint, this big team that Mike is building that will be world-class," Moretti said of Michael Kronish, EVP, online and TV, at Vice Media Canada as he stick-handles the company's expansion in Toronto and Montreal.
In Canada, Montreal will focus on French-language content. "Quebec is important to us. That's where Shane (Smith) and the mag came from. That's a proper homecoming in that city," Moretti added.
Moretti during Wednesday's pitch session at the Ritz Carleton Hotel was at times vague about Vice Media's plans here as Kronish has just come on board, the Toronto and Montreal studios have not yet opened their doors and the company's development team is shortly to be unveiled.
He told Canadian producers that Kronish and his team at Vice Media had begun taking pitches to "collaborate" on new content, but added a deal model was still to be nailed down and likely to be revealed in four to six weeks.