HGTV Canada preps Carver Kings
The latest project from Paperny Entertainment is a companion series to the successful Timber Kings.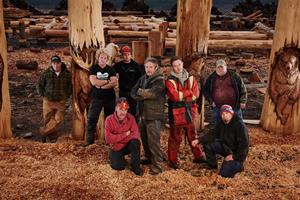 HGTV Canada has picked up Paperny Entertainment's Carver Kings, a companion series to the Vancouver-based prodco's successful Timber Kings series.
The Shaw Media specialty is slated to bow the new series on April 5 at 10 p.m., immediately following the season two finale of Timber Kings. Carver Kings includes 14 half-hour episodes, with the first two episodes airing back-to-back. One new episode will then air each week, followed by a repeat of a previous episode.
The first season of Timber Kings, which follows premium log home builders who work for B.C.-based Pioneer Log Homes, was the channel's highest-rated series ever, averaging 400,000 (2+) viewers per episode.
Carver Kings follows a team of chainsaw carving experts who work with Pioneer Log Homes to create unique carvings for the finished log homes.
With the success of Timber Kings, Shaw Media approached Paperny Entertainment to see if there was a possibility of creating a companion series for the show, explained prodco president David Paperny.
"HGTV asked us a very open-ended question; what else is going on up there – in addition to the building of these spectacular log homes – that could form a new series?" Paperny told Playback Daily.
Over the past year of filming Timber Kings, Paperny said the crew had a good sense of what other stories they could tell that they weren't able to capture on camera with the original series. In addition to showcasing the chainsaw skills of the carving team, Carver Kings also allowed Paperny to give viewers a better look at completely finished homes – something the original Timber Kings series didn't do.
"It's a real privilege – and a hugely fulfilling endeavour – to make this companion piece; to keep all the Timber Kings fans engaged with more stories, with different stories, that still connect back to our original show," Paperny said.