The long and the short of Bell Local's 'Pique' commission
Bell Local producer Ian Daffern discusses the local programming service's collaboration with director/curator Imad Elsheikh to transform his video clips into useable VOD content.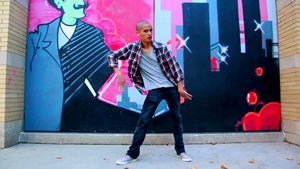 Even in today's bite-size video culture, sometimes short can be too short.
Such was the case when Bell Local producer Ian Daffern came across director and curator Imad Elsheikh's Pique project, a series of 15-second videos showcasing Toronto artists and personalities.
Thematically, the series was a perfect fit for Bell Local, Fibe TV's on demand "community cable" service.
But the 15-second clips were problematic, he says: "Fifteen seconds don't work well for VOD because viewers have to click through and activate each episode individually, then return back to a main menu."
However, Daffern and Elsheikh worked together to re-cut the super-short eps into five-minute episodes tailor-made for the Bell Local service.
The videos showcase 100 Torontonians, ranging from artists and rappers to skateboarders.
"These are the people we should be covering for Bell Local," Daffern quips. "You build an audience also by reaching out to people who want to see themselves on TV too. There are 100 artists here, and all of them have their own networks."
Also key to the commission was the ancillary and social media content Elsheikh produced to go along with Pique.
Each of the original videos was accompanied by photos and short write-ups that Elsheikh published to tumblr and Instagram, key material that Bell Local was then able to use for marketing. "All we did was put a logo on [the materials], and we were able to market our show," Daffern said.
With all six episodes of Pique live on the channel, Bell Local has commissioned a second season of the series that will feature ten-minute long episodes and is slated to bow this fall.
Elsheikh said he would like to shoot subsequent seasons of the series in a city outside Toronto keep the content and format fresh.
"It can be multiplied to other locations – it doesn't have to necessarily just be Toronto," Elsheikh said.
Other properties Bell Local has commissioned have found success on the international stage despite a hyper-local focus. The format rights to Crazyshirt Productions' Touring T.O., the first scripted series Bell Local commissioned, were acquired by Fremantle Corp. earlier this year.
The series follows two unlikely friends and an intern running a struggling rickshaw tour company that takes tourists to obscure Toronto landmarks. Fremantle Corp. CEO Brad Pelman told Playback Daily at the time that the Touring T.O. format can be up-scaled by an international broadcaster or produced on a shoestring budget, as on Bell Local.
- with files from Etan Vlessing