marblemedia, Essential 11 team up for hidden camera series
Made Up will bow later this year on Disney XD in the U.S. and YTV in Canada (host Andrew Chapman pictured).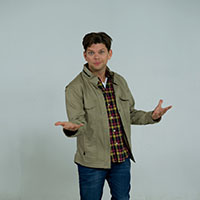 marblemedia and Essential 11 have partnered to produce Made Up, a new hidden camera show that will bow later this year on Disney XD in the U.S. and YTV in Canada.
Toronto-based Essential 11 Television Canada is a Canadian-controlled company that is part of an international partnership between Essential 11 Television USA and Australia-based Essential Media & Entertainment. Made Up was created by Mark Herwick (Code:9) and will be hosted by Extreme Babysitting's Andrew Chapman.
The series will follow teens who pull pranks on unsuspecting family members, with makeup artists using special effects makeup to disguise the teen. The pranksters will also work with an acting coach to help them pull pranks on an adult family member. The first season of Made Up will include 13 half-hour episodes.
Made Up is executive produced by Herwick, Jesse Fawcett, Joey Case, Dan Sachoff, Jonathan Dueck, Matt Hornburg and Mark J.W. Bishop. Marbelmedia's Distribution360 will distribute the series.
Correction: A previous version of this story featured a picture of Andrew Chapman as the host of Extreme Babysitting, which is produced by CCI Entertainment and General Purpose Pictures; the picture has been updated to reflect Chapman's participation in Made Up, as announced here.