Coming Soon: Big News from Grand Rock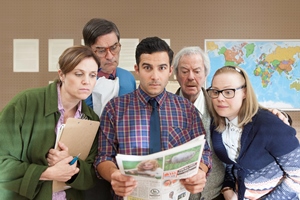 Coming Soon, an ongoing editorial feature from Playback, highlights the distribution strategies for soon-to-be released Canadian films. Here, we speak to Markham Street Films' Judy Holm about the distribution strategy for Daniel Perlmutter's feature debut, the comedy Big News from Grand Rock.
The film: Big News from Grand Rock tells the story of Leonard Crane, the editor of the Grand Rock Weekly Ledger, who starts to publish fabricated stories based on plots from old movies in an effort to keep the paper afloat. A reporter from another town then heads into Grand Rock to investigate one of the scandalous articles, and discovers that one of the fake stories may indeed be true. The film stars Ennis Esmer, Meredith MacNeill, Kristin Booth, Peter Keleghan,  Tammy Isbell, Leah Pinsent, Dan Redican, David Reale and Art Hindle, along with Gordon Pinsent and Aaron Ashmore. Big News from Grand Rock was the winner of the 2009 Telefilm Pitch This! competition, and was selected for the 2011 Telefilm Canada Features Comedy Lab.
Distributor and production credits: Big News from Grand Rock producers Markham Street Films are handling its Canadian theatrical distribution. The film was directed/written by Daniel Perlmutter, with Judy Holm serving as executive producer/producer, Ennis Esmer as executive producer and Michael McNamara as producer.
Theatrical run: The film is opening on Friday, Feb. 27 in independent theatres across Canada, including Toronto's Carlton Cinemas and Landmark Cinemas in Whitby and Kanata in Ontario, and Calgary, Edmonton and Vancouver. The film will have runs of at least a week in all of the theatres, with the opportunity for holdover if it does well, says Holm.
"We always thought February was the right time to do it, because it is a comedy, it's cheerful, it's light – it seemed like a lovely antidote to the incredibly cold weather we're having," Holm tells Playback Daily.
The film is bowing theatrically after a long run with the TIFF Film Circuit, where it has more than 30 engagements to date since October and helped to raise awareness about the film across the country ahead of its theatrical release.
"This is a comedy about a small town, so the Film Circuit markets are perfect for us," Holm explains. Big News was shot in Midland, ON, and had four sold-out screenings in that town via the Film Circuit, she adds.
Marketing: The marketing strategy for the film includes some traditional media buys, including print ads in NOW, The Globe and Mail and weekly newspapers in the other markets the film is screening in. The producers will also release short vignettes on social media featuring director Perlmutter and lead actor Esmer to promote ticket pre-buys for the theatrical screenings.  Perlmutter and various cast members will attend opening weekend screenings in Toronto, with The First Weekend Club organizing a Q&A event for the Friday night screening.
Additional windows: Big News from Grand Rock will be available on digital platforms (such as iTunes and other VOD providers) starting in early May. The Movie Network and Movie Central both closed pre-buy sales for the film, and those broadcast windows will start in August.
Target audience:  "Anyone who would like a lovely, cheerful, funny film in the middle of winter," Holm says. She characterizes the film as an "old-fashioned comedy" and says the demo skews slightly older.
What makes this film unique? Holm says Big News From Grand Rock has a heavy focus on Canadian talent, both in front of and behind the camera.  "It is an entirely Canadian cast, it was shot in Midland – it's a Canadian story," Holm said.
Budget/financing: Big News From Grand Rock had a budget of $1.25 million, and received financing from Telefilm Canada, the Ontario Media Development Corporation, Movie Central and The Movie Network. The producers also raised $50,000 via an Indiegogo campaign to supplement financing.