Secret Location's digi Blacklist ep makes Digital Emmy shortlist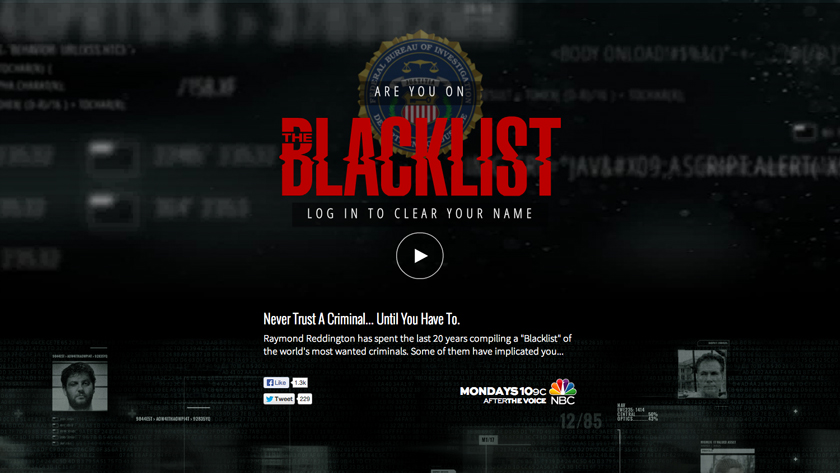 Are You On the Blacklist?, an interactive episode of NBC's The Blacklist created by Toront0-based Secret Location, is among the boundary-pushing digital projects nominated for the 2015 International Digital Emmy Awards, announced Tuesday.
The interactive episode, created by Secret Location in association with Sony Pictures Television and NBC Entertainment Digital, is up for a Digital: Fiction Emmy. It is vying for the prize alongside Geração Brasil: Filma-E (Now Generation) from Brazil's Globo TV; Dina Foxx (Tödlicher Kontakt) (Dina Foxx- Deadly Contact) from Germany's ZDF/UFA/Exozet and Avex Digital Japan's Hanbun no Sekai (Half & Half).
The Digital Emmys are comprised of three categories, Fiction, Children & Young People and Non-Fiction. Non-Fiction nominees include the Submarine Channel/Razor Film/ZDF/IKON collaboration Last Hijack Interactive from the Netherlands; Fuji Television Network's Werewolf: Who's The Liar? Village 05 from Japan; Losbragas Productions and NRSports Neymar Jr's Life Outside The Fields from Brazil and the UK's Fresh One/Rckt/Channel Four/Oxfam co-pro Don't Stop The Music.
Nominees for the Digital: Children & Young People category include Oh My English! from Malaysia's Red Communications; Reverse the Odds from Maverick Television and Chunk for Channel 4 & Cancer Research UK; TheSimpleClub from MediaKraft Networks GMBH Germany and Incur Brincando (Include by Playing) from TV Cultura (Fundação Padre Anchieta) and Sesame Workshop Brazil.
The International Digital Emmys is in its 10th year and is presented by the International Academy of Television Arts & Sciences. All programs will be showcased at MIPCube in Cannes, with awards handed out at MIPTV on April 13 at the Grand Hyatt Martinez Hotel.
From Stream