Two new CW season pickups for Take 5, Whizbang
The elaborate backlot set at Cinespace Studios Kipling is just one sign of the scope of production currently underway in Toronto's west end.
On what once was a dreary Etobicoke parking lot is now a medieval pagan village. On the "streets" within, one feels they were sent, Outlander-style, through time into medieval France (if not for the freezing Toronto temps).
The detailed outdoor construction is a point of pride for Take 5 Productions president John Weber and Frank Siracusa, president and CEO of Whizbang Films, who together have taken over 100,000 square feet of space at Cinespace Film Studios' Kipling location.
The lot, and the two acres of tightly packed sets within, have been constructed in support of CW series Reign and Beauty and the Beast, both of which are Canadian-certified productions coproduced between CBS and Take 5/Whizbang. The series are licensed to Bell Media and Shaw Media, respectively, in Canada.
Reign was greenlit in January for a 22-ep third season and Beauty in the Beast has now, as of Feb. 10, also been giving the official go-ahead for a fourth season, bringing its total episode count to 70.
Both series are shooting concurrently at Cinespace Kipling, with the New York-based sets of Beauty dovetailing with ancient castle corridors of Reign.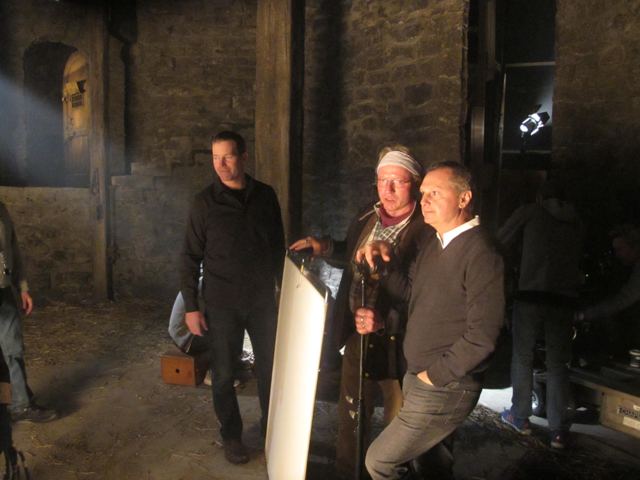 The season renewals mark another success in the partnership forged three years ago by Siracusa and Weber (pictured above, on set) to bring big-budget American series productions to Canada. Having seen – and handled – a succession of pilots that shot here only to disappear south once greenlit, the duo decided to pool resources and expertise to secure a future for the next pilots they shot in Canada.
"John and I…conceived of a production model and a financing model when we pitched CBS, [telling them] 'Don't go away. Stay here and we'll increase the value. You'll get more money.' And it's paid off big-time for us."
"The value proposition for them was that we could make [Beauty and the Beast] a Canadian content show for them," explains Weber. "We convinced CBS to partner with us on the show and produce it in Toronto."
Constructed as co-ventures, the Beauty and Reign pitches were "about more than just tax credits," says Weber. The duo had to get CBS to agree to using only Canadian directors as a key part of the Canadian structure in both instances, and then added in tantalizing extras on top of Ontario's 25% all-spend tax credit.
"We have Shaw as the Canadian broadcaster [on Beauty] and we have Bell Media on Reign. So, you're bringing in money there and you're bringing in economies of scale by having a huge production volume. And we have preferred rates with all the suppliers by virtue of the volume of work that we're delivering here."
With budgets for both series ringing in around $3 million each, the volume of production being handled out of Kipling is significant. There's also the post angle: Weber estimates that in the past year alone, $10 million in VFX work has been done in Ontario across Take 5 and Whizbang's combined slate. The period nature of series like Reign helps: the prodcos ability to make a cavernous Canadian studio look like medieval France was something CBS was initially – rightfully – skeptical about.
"They were really reluctant," says Siracusa with a laugh. "The pressure was on, because even before we started the series – after the decision was made – the people responsible for selling the show came to us and said 'you better pull it off, because we have to sell it. We've told everybody that it's a quality show that looks like it was shot in France.'"
However, with international copro credits such as The Borgias and The Tudors to its name, Take 5 is no stranger to period dramas and the lengths of VFX it takes to build credible exteriors where none exist. "We were able to show them all of the CGI work that we do [to] deliver them an exterior castle that's not just a small little matte painting in the back….they understood immediately," says Siracusa.
The success of the CW series continues to open doors. Whizbang is currently producing The Good Witch, a 10-ep miniseries for Hallmark Channel, at Cinespace Kipling, tucked amongst the two series currently shooting. The site's growing infrastructure creates production efficiencies – and those efficiences enable better use of time and budget. For instance, an on-site ADR room has been constructed so talent don't have to be ferried downtown for the work.
Both Reign and Beauty and the Beast are produced by CBS Television Studios and Whizbang Films/Take 5 Productions. Executive producers on Reign are Laurie McCarthy, Frank Siracusa, John Weber and Brad Silberling; exec producers on Beauty and the Beast are Brad Kern, Bill Haber, Paul J. Witt & Tony Thomas, Ron Koslow, Stuart Gillard, Frank Siracusa and John Weber.