Berlin: The Embargo Project adds obstacle course to filmmaking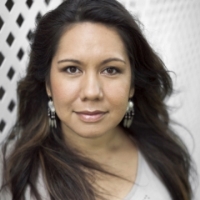 Several Canadian female directors are screening short films at the Berlin Film Festival this week after engaging in a surprising game of one-upmanship designed to push cinematic boundaries.
The Embargo Project, an anthology of five short films, captures the work of five indigenous Canadian filmmakers – Zoe Leigh Hopkins, Lisa Jackson, Caroline Monnet, Elle-Maija Tailfeathers, Alethea Arnaquq-Baril – who set each other on a self-directed obstacle course to discover new creative tricks and techniques.
Take, for example, Leigh Hopkins, whose earlier shorts like Mohawk Midnight Runners and The Garden were mostly comedies.
As part of The Embargo Project, an initiative from the imagineNATIVE Film + Media Festival, Leigh Hopkins was challenged initially by the other four filmmakers to make a short in the German Expressionism style to get her out of her comfort zone.
"That was the one rule that I pouted about," she told Playback Daily during a media lunch Monday at the Berlinale, before everyone agreed on a surreal film.
The reward: Leigh Hopkins said she relished the many provocations each of the five filmmakers in The Embargo Project imposed on one another to find new creative expression.
"We challenged one another to be unafraid, to just have fun and to just be able to try and experiment and do something that we'd not done before," she said.
There were more artistic restrictions for Leigh Hopkins before she got to the starting line. She had to abandon her usual collaborators to work with new producers, Lyvia Cohen and Jennifer Millington, and a new DP, editor and other creative talent.
And she needed to find inspiration for Skyworld, a short about a broken-hearted woman who moves home to rebuild her life, from the films of fellow participant Caroline Monnet.
Once the starting gun went off and the filmmaking began, Leigh Hopkins imposed one more technical restriction on herself – to do a single-shot film.
That restriction made sense story-wise for Skyworld, even if the film had the main character moving through two worlds – one real and the other representing the aboriginal after-life so the mother can give her young son roots through language and family.
"We built two 'skyworlds' [sets] so it was always close to where we were in the real world," Leigh Hopkins recalled, referring to how the team could easily switch between shooting scenes in the "skyworld" of the aboriginal after-life and those set in reality. "And we had an amazing Steadicam operator and a generous cast, even though they went through eight wardrobe changes," she added.
Still, the director had to complete a single shot for Skyworld, otherwise a contingency plan would kick in.
"This single shot was the scariest thing for this beast. We planned to try and get it in the can, a complete take," Leigh Hopkins remembered.
In the end, she got three complete takes.
And Leigh Hopkins and her four other collaborators on The Embargo Project got a lesson on filmmaking perseverance.
"It was such an honour. And I'm very proud of my film, but the other films are stunning," she said.
- Zoe Leigh Hopkins image via imagieNATIVE.org