Will Chorus, Corbo cash in on Berlinale plays?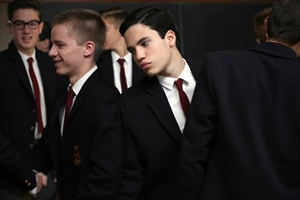 BERLIN — The release of homegrown films after festival debuts in Sundance or Berlin is a bold and risky roll-out strategy for a fast-changing Canadian industry battling for market share against Hollywood titles at home, yet steadily enjoying more critical praise and foreign sales overseas.
Writer-director Francois Delisle's Chorus bowed in Sundance and is screening at the Berlinale and then the Rendez-vous du Cinema Quebec festival on Feb. 28, ahead of a March 6 commercial release in French-speaking Canada.
The stark black-and-white drama follows two separated parents, played by Sebastien Ricard and Fanny Mallette, whose eight year-old boy Hugo was murdered 10 years earlier. In Chorus, they are forcibly reunited in Montreal on news they need to identify some human remains once hastily buried.
In the plush lobby of the NH Hotel near Potsdamer Platz, Delisle recalled the film's premiere at Sundance, and wondering how the audience would receive the post-screening Q&A about his bleak family drama, which was seven long years in the making.
"I asked myself, how [is the audience] going to react about the movie? Maybe they don't want to ask questions and just go away," Delisle told Playback Daily in Berlin on Saturday after an advanced screening for Chorus in the Panorama section.
But his concerns have so far been unfounded.
"I've been trying humour. I can't do anything else. I'm waiting for them, and they began asking a lot of questions, and I was happy with that," Delisle said, remembering the Sundance post-premiere reception.
Breaking the glass in Berlin, where the filmmaker anticipated less audience reaction for his French language film, was also easier than expected.
That emotional release was never assured for a film about rising from the dark depths of grief and blame over a murder in a city still coming to terms with the sins of its past.
"Maybe Berlin is like this. It's a vibrant city. And yet the history is all there, and you are walking and seeing the scars of the past and that creates something interesting," Delisle said.
Fellow Quebec director Mathieu Denis is also in Berlin with Corbo, the European premiere for his historical take on FLQ youth cells in the 1960s, ahead of an April release by Christal Films and Entertainment One.
Chorus and Corbo are looking to score on Telefilm Canada's success index, which tallies film festival trophies and international sales to help measure how homegrown movies may perform against stiff competition from popular Hollywood movies at the Canadian cinema.
At Berlin, Denis and Corbo producer Felize Frappier from Max Film Media are hoping the FLQ drama will resonate with foreign distributors amid the current debate about radicalization of troubled teens becoming foreign fighters in the Middle East.
"Young people are trying to find something that is bigger than their individual selves, and there's not many things that give them that," Mathieu told Playback Daily.
Frappier added Belgium-based sales agents Be For Films, which is shopping Corbo at the European Film Market in Berlin, is close to deals with foreign distributors who may see in the Canadian drama a reflection of young people in their own markets similarly dealing with adolescent angst and lost job opportunities.