Blog: Francois Delisle on bringing Chorus to life
Sundance blogger Alan Bacchus talks to the director about writing, financing and finishing his sixth feature (Chorus pictured).
By Alan Bacchus
One of the most affecting films for me at this year's festival was François Delisle's Chorus. And not because it was Canadian and not because it was a project supported in part by our French-Language compatriots Le Fonds Harold Greenberg. In fact, because applications to Le Fonds are administered separately from our English-Language Program, I was unaware of the project or its financing prior to seeing the film for the first time.
Effectively Delisle takes the nightmarish subject of child's kidnapping and crafts a very human, emotional and even romantic story about a couple struggling to rekindle a relationship. This was Delisle's sixth feature film, and second film to screen at Sundance (Le météore appear at the fest in 2013). As an entry in the World Dramatic Competition program, Chorus is up for awards which will be announced on Sunday. While it's worthy of any of the top prizes,  it might be the strongest contender for the Cinematography Award because of Delisle's evocative use of B&W (he served as his own DOP as well). In speaking with Delisle he reflected on the making of this film:
Alan Bacchus: What was the genesis of the film? Or how did the story begin and then evolve in the writing?
François Delisle: It took me years to get to write the script from when I first started to when it was finally done. In fact, I did two movies in between, in part because I was searching for the right angle to approach my subject. My first intention was to explore the felling of loss, and confront death in an artistic way, so that basic premise that you saw was almost there. I think I lost myself for a little bit in the writing before getting back to the core of the story and finishing my script.
AB: Going by the credits it seems you had strong support from almost all the traditional financing sources (Telefilm, Sodec, Le Fonds, Super Écran). Can you describe how the financing came together?
FD: Fast. Once the final script was done, we financed the movie in a few months. That said, the budget was relatively low. My films tend to be inexpensive to make and yet always seem to find their place in the market. I pride myself on that track record.
AB: There's some strong and uncomfortable subject matter in the film. Was there ever any pushback from the agencies on some of the more difficult material?
FD: Not at all. They know my work and they were aware that all the "strong material" would not be exploitative, but subtle and human. If anything it was the use of black and white. But black and white was not negotiable for me and even if it meant a lower financing offer, it was important for me to make the film that way.
AB: You served as writer, director, editor and cinematographer. Did you ever second guess yourself assuming so many key roles in the production?
FD: Chorus is my sixth feature and I've developed these skills over 20 years of hard work. All these roles are natural for me. It gives me the freedom and control to express myself and the way I want to communicate with the audience. I like to think that part of what makes my films distinct stems from this level of control.
AB: How was the Sundance experience this year?
FD: It was fantastic and exhausting. I feel that the movie was well received and the "buzz" was great. Now for the last days of the festival, I am happy to slow down and cool off.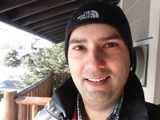 Alan Bacchus is the Programs Manager for Bell Media's The Harold Greenberg Fund, overseeing the Script Development Program for Canadian feature films. Alan is a member of the Online Film Critics Society, writing for Exclaim! as well as his own blog, dailyfilmdose.com. Alan has also produced and directed a number of short films.