Zone3 picks up rights to Keshet's Girlfri3nds
The Montreal-based prodco will produce a French-language version of the reality dating show for Bell Media's VRAK channel. (Image from the original Israeli version of the show pictured.)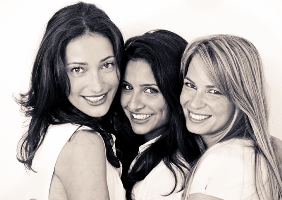 Montreal-based prodco Zone3 has picked up the format rights for Keshet International's Girlfri3nds reality dating show.
The prodco will be producing a French-language adaptation of the series for Bell Media's youth-focused VRAK channel. Production on the 16 x 30 minute series is slated to start shortly and is scheduled for a Thursday, April 23 premiere at 7:30 p.m.
In the original format, three women audition and date 100 men in quest to find their soulmate, with the three contestants living together in a mansion for the duration of the series.
In the Zone 3 version of the series, the first nine episodes will focus on three women looking for love, with the final nine focused on three male contestants. In an unusual move, the name of the Zone3-produced series will also switch half way through the season's run to reflect the change in focus, from 3 filles celibataires (Three Single Girls) to 3 gars celibataires (Three Single Guys).
The original Israeli version of the format appeared in primetime on Keshet Channel 2, and was produced by Kastina Productions for Keshet Broadcasting. Other adaptations of the format have appeared in the U.K. and the Ukraine.
The deal between Keshet International and Zone3 for the format rights for Girlfri3nds was brokered by Keshet International's director of sales Cynthia Kennedy.