Scythia Films copro The Witch sells to A24 at Sundance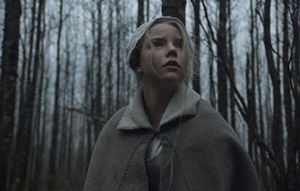 By Alan Bacchus 
ON SELLING
Let's talk sales: the market for Sundance titles was already hot before the festival even began. Music doc What Happened, Nina Simone was snatched by Netflix. No surprise that Fox Searchlight nabbed sure-fire winner Mistress America, another Noah Baumbach/Greta Gerwig collaboration; A24 took James Ponsoldt's Jason Seigel/Jesse Eisenberg starrer The End of the Tour; Magnolia bought Andrew Bujalski's Results starring Cobie Smulders and Guy Pearce and Lionsgate bought Jared Hess's new comedy Don Verdean. Encouraging results but all expected purchases with established stars.
The opening night film is always a coveted spot (Whiplash soared first last year) and Bryan Buckley's The Bronze, a raucous gymnastics comedy now renowned by its salacious love scene, indeed has emerged a winner with a reported $3 million deal with Relativity Media.
Most significant to Canada is the buzzed-about colonial-era chiller The Witch, coproduced by Scythia Films and prolific Canadian Daniel Bekerman, which found a deal with A24 for a reported $1.5 million.
Critical reviews have described The Witch as an "exquisite holy terror," that will "chill your bones and haunt your soul" (Indiewire) and "an accomplished feat of low budget period filmmaking" (Variety). The most significant aspect of The Witch's deal is that it has no major stars, even by indie film standards, whereas all other non-documentary acquisitions have been buoyed by star power. Toplining The Witch are Anya Taylor Joy, Ralph Ineson, Kate Dickie, Harvey Scrimshaw, Ellie Grainger and Lucas Dawson. I talked to Bekerman about his unique collaboration with American indie prodco Parts and Labor on the film:
Alan Bacchus: The buzz on the film has been palpable. When a second P&I opened up Friday night, press congregated to the industry tent in droves. I was there 45 minutes early and still couldn't get in. How does the buzz feel on your side?
Daniel Bekerman: The buzz is great, that's really what we aim for when developing and producing movies, to create  something that stands out. It was a long road to Sundance and it's gratifying to see the impact it's having on people – only slightly dampened by the fact that I broke my ankle on the first day.
AB: The film is in the U.S. Dramatic Program, but you and Jonathan Bronfman (credited as executive producer) are producers. What is the Canadian connection to the film?
DB: I met Lars Knudsen and Jay Van Hoy from Brooklyn's Parts and Labor when they were considering shooting a previous film in Canada. They had the script for The Witch, and I thought it was very potent and we decided to join forces on the project. I met (writer/director) Robert Eggers and when I understood his vision for the film I knew it was going to be a challenge but that there was huge potential. Jonathan Bronfman from JoBro Productions came on board and together we got it off the ground.
AB: Do you notice any significant differences in philosophy from making a Canadian film versus making an American indie film?
DB: It was an eye opener to say the least. I felt a lot of commonality with Parts and Labor, they make similar sized films to those I've been involved with and they are as passionate as I am about making good movies that have a chance of breaking out. Of course they have access to a completely different set of resources and they don't have the benefit of the public funding we have in Canada. Still, there's more similarities then differences. We all have to work extremely hard to get movie made and we all take big risks.
ON BUYING:
I caught up with Michael Paszt of Raven Banner and executive producer on Turbo Kid, which is set to premiere this Monday at Sundance, on what the festival has been like so far from a buying perspective:
"Park City is an acquisitions exec's delight. Not only do you get offered an amazing eclectic mix of content at Sundance but you also have Slamdance, a great festival in its own right that helped launch the careers Christopher Nolan, Jared Hess and Lynn Shelton and films like Paranormal Activity and The Dirties.
"Sundance is still a very personal festival. You need to be on the ground meeting with the filmmakers and producers. A good acquisitions exec needs to be passionate and level headed at the same time. Succumbing to festival fever can lead to expensive mistakes."
Alan Bacchus is the Programs Manager for Bell Media's The Harold Greenberg Fund, overseeing the Script Development Program for Canadian feature films. Alan is a member of the Online Film Critics Society, writing for Exclaim! as well as his own blog, dailyfilmdose.com.  Alan has also produced and directed a number of short films.