How to get your debut feature into the Canadian Screen Awards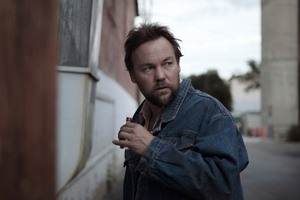 Most directors know the feeling: you're done with film school and making short films.
But the idea and financing for a debut feature that will hopefully get you on the industry radar, and possibly an eventual career making movies, remains just beyond your grasp.
Canadian directors Kyle Thomas and Christian Sparkes know that feeling. They worked for years directing short films before their moves into features netted them profile-raising nominations for the upcoming Canadian Screen Awards.
And both credit Telefilm Canada's micro-budget production program for allowing them to seemingly come out of nowhere and be catapulted from their regional bases towards national acclaim and a theatrical release for first features made for $250,000.
Sparkes, whose debut feature Cast No Shadow received four nominations for Canada's screen awards, including best picture, recalled returning to his native Newfoundland after completing the Canadian Film Centre's directors' lab in Toronto.
"I was hunkered down and eager to get something made," the young director told Playback Daily.
And it was while reading the books of local writer Joel Thomas Hynes that Sparkes heard from a mentor, NSCAD professor Sam Fisher, who was also in contact with Telefilm about its micro-budget production program.
Fisher told Sparkes the program's deadline was in three months, and could he could get a script written by then?
"It was a quick turnaround, but there's nothing better for getting work done than letting a fire get lit under you," Sparkes said.
He pitched Hynes on re-purposing his own work for a feature. The writer agreed and a script was hammered out in time to successfully apply to Telefilm for the new program.
The resulting movie, Cast No Shadow, set and shot in Newfoundland by Sparkes and cinematographer AA Scott McClellan, swept the prize-giving at the Atlantic Film Festival in September 2014, taking home six trophies.
And now its up for a best picture trophy at the Canadian Screen Awards for producers Allison White, Chris Agoston and Sparkes, a best adapted screenplay nom for Hynes, best score for Jeffrey Morrow and best art direction for production designer Xavier Georges.
Cast No Shadow, which will be soon self-released by the film's producers in Canada while its international sales rights are first shopped at the European Film Market in Berlin next month, was one of eight finalists for Telefilm Canada's micro-budget production program last year.
Another was The Valley Below, by Calgary-based director Kyle Thomas, whose own journey to the upcoming Canadian Screen Awards in part mirrors the road taken by Sparkes.
Thomas graduated from the Mel Hoppenheim School of Cinema at Concordia University before returning to Alberta to make short films using generous provincial government funding.
"It's a great way to cut my teeth, but I wanted to make a feature at some point," he told Playback Daily.
It turns out his last short, Not Far From the Abattoir, earned Thomas a trip to the 2012 Cannes Film Festival for a market screening as part of Telefilm's Not Short on Talent program.
And among the round-the clock-networking he did on the Croissette, Thomas snagged an invite to the exclusive Canadian producers dinner where he caught the ear of Carolle Brabant, Telefilm's executive director.
"Just to be able to get on the radar of those who make decisions, and [Brabant] is one of them, that trickles down," he explained.
Once back home, Thomas persuaded the Calgary Society of Independent Filmmakers, one of 30 institutions recommending projects for the micro-budget production program, to read his script for The Valley Below and put it forward to Telefilm for financing.
That's much like NSCAD did for Sparkes when it recommended Cast No Shadow.
And this was only the first round of a two-stage process, with convincing a Telefilm jury to choose your film from among the 30-project shortlist being the next hurdle.
Once the Calgary co-op vetted his script, Thomas believes the Telefilm jury was most concerned about whether his proposed first feature had the legs to get made and launched into the commercial marketplace.
"For them, it's more about your pitch. A lot of it has to do with reputation, how clear your vision is for the project and the feasibility within that [$250,000] budget," he recalled.
Eventually The Valley Below generated good buzz when it had its world premiere at the Toronto International Film Festival last September.
And now the debut feature has a theatrical release in the works via A71 Entertainment set for March 2015.
Before that, Thomas has another party invitation after Calgary's former poet laureate, Kris Demeanor, was nominated for a Canadian Screen Award for best supporting actor in a film for his star-turn in The Valley Below.
"That [CSA nomination] was quite a surprise, and that happens right before we have our theatrical release," Thomas said, citing another stroke of good luck.