How U.S. first-run syndication brought The Pinkertons to life
Ahead of the series' Canadian bow on CHCH on Jan. 27, executive producer Suzanne Berger talks to Playback about The Pinkertons financing strategy.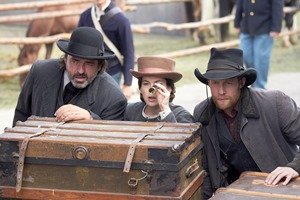 To get the historical drama The Pinkertons to air, the series' coproducer, Rosetta Media, embraced a first-run syndication model more prevalent in the U.S. market.
"We knew the stations were quite hungry for original content and were putting aside time slots for it," said Suzanne Berger, executive producer with The Pinkertons and president of Rosetta Media.
Under the syndication model, the producer sells an original show to individual stations, rather than to a network. The producer also arranges commercial ad time sales for program.
Berger said NBCUniversal handled ad sales for The Pinkertons on in the U.S.
The appeal of first-run syndication lies in TV stations assuring multiple season orders for series, Berger added. The first season of The Pinkertons comprises 22 one-hour episodes, allowing Rosetta Media time to find an audience for the series.
"We structured the show for the model. We were really interested in the model and trying to see if this is a different way to get shows made and get them to their audiences so we can continue to sell them on other platforms," Berger said.
The Pinkertons currently airs on nearly 200 stations in the U.S. since its debut in October.  The large series order also means production is currently underway on new episodes for the current season at the same time the series airs. While this means the production team, writers and posthouse Creative Post have to work quickly, the stations have so far been impressed by the quality of the show, Berger said.
"All the stations are very happy with the show and are quite astonished by the production coming out of Canada – we were an unknown to them," Berger said.
Channel Zero, parent company to Ontario TV station CHCH, acquired the exclusive rights to premiere The Pinkertons in Canada. The series will bow on CHCH on Tuesday Jan. 27 at 8 p.m. In Canada, CHCH will handle ad sales for the series.
Other financing for the series included support from Manitoba Film and Music, the Bell Fund, private investors and provincial and federal tax credits.
The series is produced by Rosetta Media and Buffalo Gal Pictures. International distribution and sales are being handled by Zodiak Rights. U.S. distribution is being handled by Rohrs Media Group. The Pinkertons was created by Kevin Abrams via his Alpine Films shingle and Adam Moore, who penned the pilot episode. In addition to Berger, The Pinkertons is executive produced by Buffalo Gal president Phyllis Laing.
Correction: An earlier version of this story incorrectly stated that Rohrs Media Group is handling the U.S. and Canadian distribution of The Pinkertons. Rohrs Media Group is handling only the U.S. distribution of the series. Playback regrets the error.