NFB film nabs animated short Oscar nom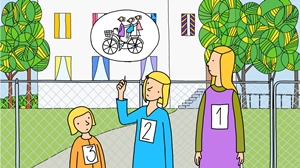 The Canada-Norway coproduction Me and My Moulton from director Torill Kove will compete against four other titles for the best animated short Oscar prize.
The 14-minute film is a coproduction between Mikrofilm AS and the National Film Board of Canada (NFB). Me and My Moulton follows a seven-year-old girl and her sisters as they ask their parents for a bicycle. Kove previously won an Oscar in 2006 for the short The Danish Poet.
Me and My Moulton was produced by Mikrofilm AS' Lise Fearnley and the NFB's Marcy Page. It was executive produced by Fearnley and the NFB's Michael Fukushima, Roddy McManus and David Verrall.
Elsewhere, How To Train Your Dragon 2, from Canadian expat director, producer and writer Dean DeBlois (and which also stars Montrealer Jay Baruchel as the lead voice actor) earned a nomination in the best animated feature film category. The Boxtrolls, co-directed by Canada-born, Portland-based Graham Annable, also received a nomination in the best animated feature film category.
Nominated for outstanding technical achievement is Robert Bridson, co-founder of Exotic Matter that makes physical simulation software for the film industry, "for early conceptualization of sparse-tiled voxel data structures and their application to modeling and simulation."
Laura Dern and Reese Witherspoon both picked up acting nominations for their performances in the Jean-Marc Vallee-directed Wild, in the categories of best supporting actress and best actress, respectively.
In what many consider to be an upset, The Lego Movie was not nominated for best animated feature; however, its earworm-crazy theme song, "Everything is Awesome," was nominated in the best original song category. Nominated is the song's writer/composer Shawn Patterson but Canadians can take note that the song is performed by Calgary-born indie rock duo Tegan and Sara.
"These nominations are an honour, not simply for their recipients, but for the Canadian film industry as a whole," said Telefilm executive director Carolle Brabant in a statement late on Thursday.
Updated 5:34 Jan. 15, 2015