Projects from Elan Mastai, Morwyn Brebner pick up HGF coin
The Harold Greenberg Fund supports 27 projects in its latest round of financing and adds Richie Mehta (pictured) to its board.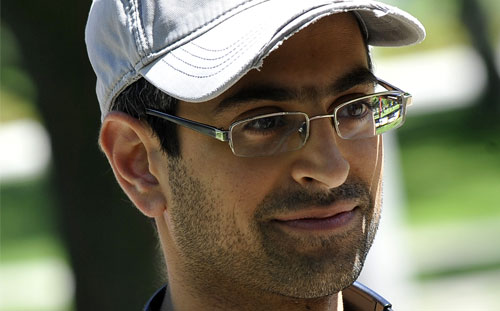 The Harold Greenberg Fund has unveiled the recipients of its latest round of funding, including 26 film projects through its script development program and one project via its equity investment program.
The fund also announced the appointment of Canadian filmmaker Richie Mehta to its board. Mehta's directorial credits include the TV doc series Organic Panic and the feature films Siddharth, I Will Follow You Down and Amal.
Please see below for the list of projects that recieved support in the Harold Greenberg Fund's latest round of financing:
Supported projects – Script Development Program
Story Optioning – First Option
Infidelity
Euclid 431 Pictures Inc. and Quarterlife Crisis Productions Inc.
Author: Stacey May Fowles
Festival Man
Sarrazin Productions Inc.
Author: Geoff Berner
The Way the Crow Flies
Film Forge Productions Inc.
Author: Ann-Marie MacDonald
Director: Andrew Cividino
Polish and Packaging
Don't Talk To Irene
Alyson Richards Productions Inc
Screenwriter/Director: Pat Mills
Feral 
10x2yinc.
Screenwriter/Director: Jamie M. Dagg
Lavender
3 Legged Dog Films Ltd.
Screenwriters: Ed Gass-Donnelly and Colin Frizzell
Director: Ed Gass-Donnelly
Remedy in Paris
Screen Sirens Pictures Inc.
Screenwriter/Director: Ian Iqbal Rashid
Sleeping Dog Lie
Darius Films Inc.
Screenwriters: Paolo Mancini and Thomas Michael
Director: Mark Raso
Super Pulp!
South Creek Pictures Inc.
Screenwriter/Director: Troy Nixey
The Breadwinner
Aircraft Pictures Inc.
Screenwriters: Anita Doron and Deborah Ellis
Director: Nora Twomey
The Great Perhaps
Corey Marr Productions Inc.
Screenwriter: Joseph Kay
Director: Paul Fox
The Other Half of a Missing Person
Motel Pictures Inc.
Screenwriter/Director: Joey Klein
The Saver
Prospector Films
Screenwriter/Director: Wiebke von Carolsfeld
First to Second Draft
Better Now
Screenwriter: Elyse Friedman
Freeing Finnigan
Imperative Pictures Inc.
Screenwriter: Roslyn Muir
Ghost Man
2412658 Ontario Inc. (Recorder Films)
Screenwriters: Max and Adam Reid
Director: Craig Wallace
Hey 45
Triptych Media Inc., Larkways Inc. & Tim Southam Films Inc.
Screenwriter: Morwyn Brebner
Director: Tim Southam
Spinstah
Northeast Films
Screenwriters: Andrea Dorfman and Jennifer Deyell
Director: Andrea Dorfman
The Misery of Others
Festina Lente Productions Inc.
Screenwriter/Director: Jason Buxton
The Road Through Kandahar
Go Films L.P.R.S. Inc.
Screenwriter/Director: Ariel Nasr
Second to Final Draft
Entanglement
Resonance Films
Screenwriter: Jason Filiatrault
Far To Go
House of Films Inc.
Screenwriters: Hannah Moscovitch and Rosa Laborde
Director: Larry Weinstein
Never Steady, Never Still
Christie Street Creative
Screenwriter/Director: Kathleen Hepburn
Nobody
Copperheart Entertainment
Screenwriter/Director: Vincenzo Natali
Operation Red Dog
Hungry Eyes Film & Television Inc.
Screenwriters: Sudz Sutherland and Jennifer Holness
Director: Sudz Sutherland
Treatment to First Draft
When I Loved You
Typewriter Films Inc.
Screenwriter: Elan Mastai
Supported projects – Equity Investment Program
The Lockpicker
Okita Lapeyre Pictures Inc.
Producer: Jason Lapeyre
Director: Randall Okita