Mommy and Orphan Black lead Canadian Screen Awards nominees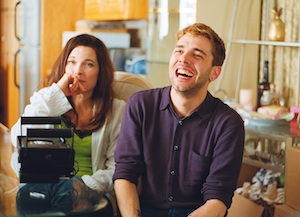 Canadian film and TV awards are rarely aligned with box-office and TV ratings success.
Not this year, as Xavier Dolan's Mommy and David Cronenberg's Maps to the Stars lead a competitive 2015 field of Canadian Screen Awards film nominees, unveiled Tuesday during press conferences in Toronto and Montreal.
In another sign the Canadian industry is reacting to an increasing globally facing commercial imperative, the Tatiana Maslany-starrer Orphan Black scored 13 nominations, beating all comers in the TV competition at the Canadian film, TV and digital awards.
Mommy grabbed 13 film nominations for the Screenies, including a best motion picture nod and another in the best direction category for Dolan. Close behind with 11 nominations is Maps to the Stars, which will also challenge in the best motion picture and best director categories.
Both Mommy and Maps to the Stars were Cannes award winners before impressing at the Canadian box office.
Other best film contenders include Albert Shin's In Her Place, which scored seven nominations, Stephane Lefleur's Tu dors Nicole, which has six nominations and Christian Sparkes' Cast No Shadow and its four nominations.
Other film multiple nominees include Martin Talbot's Henri Henri, which has six craft nominations, including best music , make-up and costume design, and Terrance Odette's Fall and Rudy Barichello's Meetings with a Young Poet, both with five noms.
In all, in nominations in 128 categories were announced by the Academy of Canadian Cinema and Television on Tuesday, including 97 in TV categories, where the gap between critical and commercial acclaim greatly narrowed this year as Bell Media series Orphan Black, 19-2 and Call Me Fitz lead this year's nominations.
The Space clone drama Orphan Black snagged nominations for best dramatic series, best drama leading actress for Maslany, best drama supporting actor for Jordan Gavaris, best drama direction for T.J. Scott and noms for host of other craft categories, including best drama sound and best drama photography.
Bravo's English-language reboot 19-2 scored ten nominations, including best dramatic series, while HBO Canada's Call Me Fitz and the CBC's Mr. D each snagged 10 nominations.
The best drama competition also includes Showcase's Continuum and CTV's Motive, both crime dramas, and Global Television's Remedy.
Call Me Fitz and Mr. D will also challenge in the best comedy category with City's Seed, CTV's Spun Out and Super Channel's Tiny Plastic Men.
Elsewhere, popular format adaptations dominate the best reality series competition, with CTV's The Amazing Race Canada, Slice's Big Brother Canada and CTV's MasterChef Canada will challenge Sportsnet 360′s The Ultimate Fighter Nations and Unusually Thicke series from Slice.
On the TV news front, CBC's perennial The National scored nine nominations, including best national newscast.
And digital media contenders at the Screenies include the best original fiction digital series competition pitting LaRue Productions' The Amazing Gayl Pile, iThentic's Guidestones and JLeaver Presentations' Out With Dad against iThentic's Space Riders: Division Earth and Secret Location's Whatever, Linda.
And the best original non-fiction digital media program category will see Ideacom International's Apocalypse 10 Lives, Guy Georgeson's Coolest Thing I've Ever Made and the NFB's The Devil's Toy Redux against the NFB's A Short History of the Highrise and Stornoway Communications' The Transgender Project.
The Academy will stage Canadian Screen Week from Feb. 23 to March 1, when a two-hour live broadcast of the Canadian Screen Awards will air on the CBC.
To see a complete list of nominees in the following categories, click on the links below or visit Academy.ca: