CBC greenlights second season of Schitt's Creek
The comedy, co-created and starring Eugene Levy and son Daniel Levy, debuts on Tuesday night.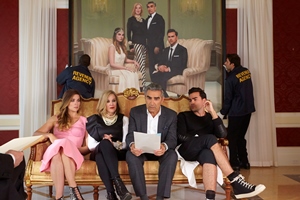 The CBC has greenlit a second season of Schitt's Creek ahead of its rookie season debut on Tuesday night.
The first 13 episodes of the comedy were co-created by, and star, Eugene Levy and his son Daniel Levy. The series also stars Catherine O'Hara, Chris Elliot and Annie Murphy.
All will return for the sophomore run, to bow on the CBC in winter 2016.
Schitt's Creek will debut next month on the POP network in the U.S. market.
The Canadian-made comedy portrays a wealthy family who suddenly find themselves broke and forced to live in Schitt's Creek, a small, depressing town they bought as a joke.
In their new home, the family is forced to confront their new-found poverty and discover what it means to be a family.
The comedy is produced by Not A Real Company Productions, with Eugene Levy, Daniel Levy, Andrew Barnsley, Fred Levy and Ben Feigin serving as executive producers.
Schitt's Creek is distributed by ITV Studios Global Entertainment.