Fremantle Corp. grabs format rights to Touring T.O. comedy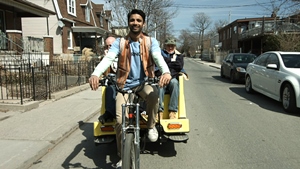 The Fremantle Corp. has picked up the format rights to Bell Local's Touring T.O. series ahead of NATPE.
The comedy series from Crazyshirt Productions follows two unlikely friends and an intern running a struggling rickshaw tour company that takes tourists to obscure Toronto landmarks.
The comedy is the first scripted series commissioned by Bell Local, a programming service run as part of Bell Fibe.
Fremantle Corp. CEO Brad Pelman told Playback Daily that the Touring T.O. format can be up-scaled by an international broadcaster or produced on a shoestring budget, as on Bell Local.
The rickshaw-company-in-trouble format is targeted at broadcasters in major international cities on the tourist map.
In other pre-NAPTE news, Fremantle Corp. has inked a deal with Shout! Factory in the U.S. and Canada for the home video distribution rights to the classic series The Campbells.
And RAI Italy has has acquired Caesar and Cleopatra, which stars Christopher Plummer.