Building a filmmaker brand and digi distribution: TIFF Industry Day
As part of TIFF's Top Ten Film Festival, filmmakers and industry execs gathered at the Lightbox in Toronto to discuss issues and trends affecting indie filmmakers today.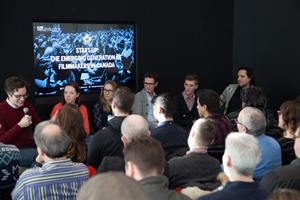 When Wet Bum producer Lauren Grant took a closer look at the projects she had worked on over the years, she saw a clear trend emerge that she decided to turn into a personal brand.
"Of my last six projects, five were directed by women," Grant said during a panel featuring emerging Canadian filmmakers at the TIFF Top 10 Industry Day on Thursday, which included Andrew Cividino, writer/director, Sleeping Giant; Mathieu Denis, writer/director, Corbo; Andrew Huculiak – writer/director, Violent, Jordan Canning, producer/writer, We Were Wolves, Grant and moderator Daniel Bekerman, producer, Bang Bang Baby. 
Grant noted she also the films she had worked on were also largely driven by female characters. "Last year I finally started saying, I want to make films that are with female creative talent either in front or behind the camera."
Grant admitted that it can be difficult for new filmmakers to identify a brand for themselves until they accumulate a significant body of work. For Grant, her brand emerged from her own personal interests and passions. She said by identifying her brand, it has helped her streamline her work process and makes it easier to decide which projects she should take or pass on.
"My company is me when I'm not in production, and I don't have time to read everything, so to help identify…a brand also helps me to be able to function," Grant said.
While considering your brand early on can be helpful, Sleeping Giant writer/director Andrew Cividino also made a case for emerging filmmakers to follow their gut when it comes to deciding what projects to pursue.
"I can't think of a time when it's ever more important to really trust the vision that you have," Cividino said. While a director's early projects may not appeal to broad audiences, he said, by sticking to your vision you may create a film that resonates strongly with a small, dedicated audience.
"I think being true to that is how your brand ends up forming," he noted.
Cividino also offered advice to new filmmakers about managing budgets, saying they must always be creating and developing new projects on smaller budgets if they want to keep working in an ever-changing film industry.
"We should always be trying to figure out what is the next story that we can tell for less and have that ready to go in the hopper, because that is the only way we are going to be consistently working in an industry that is in flux and budgets that are in decline. That is how you insulate yourself," Cividino told the audience.
The TIFF Industry Day wrapped with a panel focusing on digital distribution, populated by Dave Forget of Telefilm Canada, CMPA president and CEO Michael Hennessy, DGC president Tim Southam, FilmBuff CEO Janet Brown, Elevation Pictures EVP and GM Naveen Prasad and moderated by Brunico Communications VP and Playback publisher Mary Maddever.
Shining a light on international indie distribution, with a focus on digital, was Brown, who shared tips and trends with the audience from FilmBuff's substantial data ecosystem, garnered through the digital database that houses its films.
Canada is something of an outlier in the world in regard to how transactional, or EST, films (iTunes, theatre) are performing versus subscription-based films, she noted.
"We've seen in Canada a real slowdown in TVOD and almost doubling of SVOD," she said. "What's interesting is that it's increasing in the rest of the world and slowing down in Canada. [And] the rest of the world is increasing even faster in SVOD than Canada is. So that's live data from the front, guys."
"I think the indie space is bifurcating into films that are really going to have a real TVOD window where people are going to go to the theatre and pay a marginal cost greater than zero to see that film and…what is happening in the SVOD/TV space, where consumers are paying for it but not on a marginal cost greater than zero," she continued.
This, she emphasized, should influence what kind of film a producer or director should pursue and how.
"The kind of content that's going to work on iTunes is not necessarily always the same content that's going to work under and SVOD model. You can optimize your creative energies and think, where do I want people to see it and how do I want people to consume it? And think about that before you go ahead and make it."
with files from Katie Bailey
Photo courtesy of TIFF