The Book of Negroes debuts to 1.7M viewers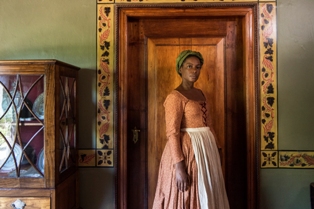 CBC's The Book of Negroes miniseries got off to an impressive start on Wednesday, earning 1.681 million viewers in the 2+ demographic, based on overnights.
The six-part series, which is produced by Conquering Lion Pictures, Out of Africa Entertainment, eOne and Idlewild Films, also saw 554,000 viewers in the 25-to-54 demo.
According to CBC, the series' premiere is the highest-rated for a CBC program since Little Mosque on the Prairie on Jan. 9, 2007. In a much different TV landscape, that premiere earned a 2.196 million 2+ audience. By genre, The Book of Negroes is the highest-rated original drama for the network since Road to Avonlea's Jan. 7 1990 premiere, which netted 2.527 million 2+ viewers.
Based on the award-winning novel of the same name by Lawrence Hill, The Book of Negroes has benefited from a relatively long promotional cycle, both inside the industry and out. It made its international market debut at MIPCOM in October and had its domestic premiere at the Canadian International Television Festival in November. With Hill speaking to the media on both his book and the series, as well as high-profile talent in front of and behind the camera, earned media on the series also appears to have been high.
As well, the series will air on BET in the U.S., although the network has yet to announce a broadcast date for the series.
Directed by Clement Virgo and co-written by Virgo and Hill, The Book of Negroes stars Canadians Lyriq Bent and Allan Hawco and Americans Aunjanue Ellis, Louis Gossett Jr. and Cuba Gooding Jr. Bent is represented by The Associates in Canada, Hawco by Gary Goddard Agency and Virgo by Great North.
The series is an official Canada-South Africa coproduction and was filmed in South Africa and Nova Scotia.
Ratings update (Feb. 6): Total ratings data (live +7) showed the Book of Negroes' premiere earned a 2+ AMA of 1.941 million.