ACTRA Toronto unveils nominees for 2015 awards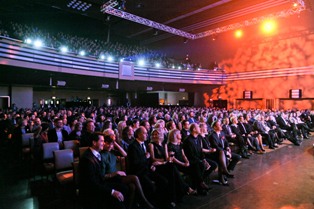 ACTRA Toronto has unveiled nominees for its upcoming ACTRA Awards, to be held in Toronto on Feb. 20.
In the best male performance category, Two 4 One's Gavin Crawford and Dirty Singles star 
Ennis Esmer will challenge 
Jordan Gavaris of Orphan Black, Guidance's Pat Mills and The Anniversary star Colin Mochrie.
The best female actress category will see Tru Lov's Kate Trotter, Dirty Singles' Lauren Ash and Entangled star Christine Horne pit against Andrea Martin of Working the Engels and Orphan Black star Tatiana Maslany.
ACTRA also each year features a best voice performance competition, this year to include nominations for David Berni of Rocket Monkeys, Total Drama's Cory Doran, Tony Nappo of Fugget About It, and separate noms for two Numb Chucks stars, Julie Lemieux and Terry McGurrin.
Tantoo Cardinal will also receive ACTRA Toronto's 2015 Award of Excellence at this year's awards gala.