Mongrel takes Canadian rights to Diamond Tongues
The acquisition comes ahead of Pavan Moondi and Brian Robertson's feature debuting at Slamdance later this month.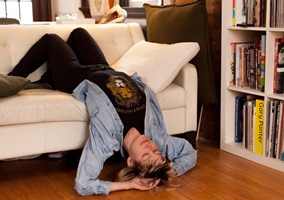 Mongrel Media has snapped up the Canadian rights to Pavan Moondi and Brian Robertson's feature Diamond Tongues ahead of its world premiere later this month at Slamdance Film Festival.
Mongrel released Everyday is Like Sunday, an earlier feature from Moondi and Robertson, in Canada.
Diamond Tongues stars Leah Fay Goldstein in a portrait of a struggling actress facing a professional and moral crisis, with Nick Flanagan co-starring.
The film is produced by Sarah Haywood, Robertson and Moondi.
Jason Charters, Liam Romalis, Sarah Haywood, Ari Lantos, Mark Musselman, Brendan Canning and Daniel Bekerman share the executive producer credits.
The 2015 Slamdance Film Festival, which spotlights low-budget indie fare, in contrast to Sundance and its focus on big-name stars, is to run from Jan. 23 to 29.
Photo credit: Travis Muise