Breakthrough, Black Fawn's Antisocial picked up by Hulu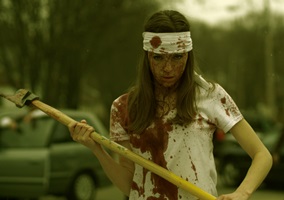 Breakthrough Entertainment and Black Fawn Film's feature Antisocial has been picked up by Hulu in the U.S. and is set to bow on the streamer in January at a yet-to-be determined date.
The horror film is the feature directorial debut from Cody Calahan, who is also a principal with Guelph-based Black Fawn Films. Chad Archibald, director and owner of Black Fawn Films, is the co-writer and producer on the project.
Antisocial tells the story of a New Year Eve's party that descends into chaos after a mysterious viral outbreak spreads across the world. Cast for the film includes Michelle Mylett, Cody Ray Thompson, Adam Christie and Ana Alic.
The Hulu deal was closed by the film's U.S. distributor, Breaking Glass Pictures. Antisocial's international (excluding U.S.) and Canadian distribution rights are held by Breakthrough Entertainment. The film is produced by Breakthrough Entertainment in association with Black Fawn Films.
In June 2014, Breakthrough Entertainment signed an eight-picture production deal with Black Fawn Films. The production deal, which is for two years, will see Calahan and Archibald each direct two films. Breakthrough will distribute the films from the slate internationally.