Playback's most-read stories of 2014
From development slates to cancellations to the Banff World Media festival, Playback takes a look back at our most-read stories from the past year. (Arctic Air pictured.)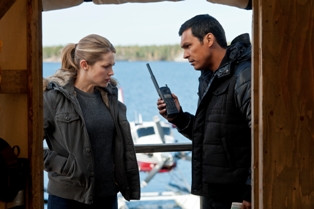 As 2014 draws to a close, Playback is wrapping up the year with a look back at our most-clicked stories. The unveiling of our 2014 class of 5 to Watch honorees topped our list this year, followed by news from the TV world, including development slates, cancellations and the Banff World Media Festival. Below, we break down our five most-read stories of 2014.
#1. Playback's 5 to Watch: Always one of Playback's most popular features, our post unveiling the latest 5 to Watch class was our most-read story of 2014. This year, Playback cut back its annual list of talent on the up and up from 10 to five. This year also brought in a record number of nominations (nearly 250), with the top five selected by an industry advisory board through a voting process and an editorial review. The result was a list of five people we think are best positioned to make waves in Canada's screen industry: Sarah Allen (actor), Jeff Chan (director/producer), Abby Ho (interactive producer), Melissa Williamson (head of development, Pier 21) and Rupinder Gill (writer).
#2. Bell Media lays off 91 staff, ends 8 in-house productions: In June, Bell Media announced it would lay off up to 120 people from its TV division in Toronto. As part of the cuts, the broadcaster shut down the in-house production of 1G5G, After Degrassi, Losing It and MTV News on MTV, Today's Top 10s, Video on Trial and The Wedge on Much and Movie Night on CTV and E!
#3. Bell Media unveils drama development slate: On the opposite side of the equation, Bell Media's always-anticipated development slate reveal continued to reign as one of Playback's most popular posts. The slate included projects from Paul Haggis and Flashpoint producers Bill Mustos and Anne Marie La Traverse, Andrew Wreggitt's Mortal Coil and Third Eye from Whizbang Films  and Anne Wheeler, and the serialized sci-fi series Echoes from Stargate Universe's Carl Binder and Don Carmody Productions.
#4. Banff 2014: top 10 takeaways: Following the 2014 edition of the Banff World Media Festival, Playback editor and content director Katie Bailey broke down the top 10 TV trends that emerged from the conference's four days of panels and talks. Some of this year's top trends: the rise of the tentpole, "eventizing" and new business models and fan power.
#5. CBC cancels Cracked, Arctic Air: The past year at the CBC was a tumultuous one to say the least, between budget cuts, layoffs and the Jian Gomeshi controversy. However, the most-read CBC story on Playback this past year was one announcing the cancellation of a new series, Cracked, and the long-running Arctic Air. At the time, Sally Catto, then executive director of commissioned and scripted programming, said "financial challenges" facing the CBC prompted the cancellation of the series.
Other top contenders
The following stories also edged their way onto our top-10 most read list:
#6. Sea Wolf/ACTRA lawsuit reaches Montreal court showdown
#7. CBC announces next-season pickups and renewals 
#8. CRTC clashes with stonewalling Netflix at Let's Talk TV hearings
#9. Rivals Netflix, Rogers team up for Canadian drama Between