Mathieu Denis' Corbo heads to Berlin
The FLQ drama will screen in the festival's Generation 2015 sidebar for coming of age features aimed at young audiences.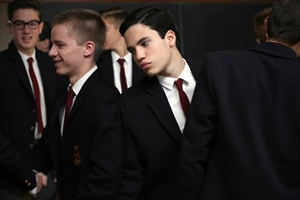 Mathieu Denis' Corbo is to receive a European debut at the Berlin International Film Festival as part of its Generation 2015 sidebar for coming-of-age films.
The French-Italian film, which had its world premiere at the Toronto International Film Festival, follows a 16 year old Quebecer in the 1960s moving from being a pro-independent activist in the FLQ to seeing violence as the only way to political change.
Denis' solo directorial debut stars Anthony Therrien, Antoine L'Ecuyer, Karelle Tremblay, Tony Nardi and Dino Tavarone.
The Generation 2015 program features feature films produced or coproduced by filmmakers from 13 countries, including the U.K., Germany and The Netherlands.
The Berlin Film Festival is set to run from Feb. 5 to 15, 2015.