2014 Humanitarian Award: Paul Haggis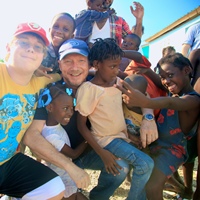 Playback's annual Humanitarian Award is bestowed to Canadians working in the entertainment industry who have made significant contributions to humanitarian causes in their careers. Past inductees have included environmentalist David Suzuki and philanthropist Gary Slaight. This year, we honour Paul Haggis, the Canadian writer/director and founder of Artists for Peace and Justice, which aims to help Haitian youth through community building projects. This article originally appeared in Playback's 2014 Winter issue.
The plight of impoverished Haitians touched Paul Haggis long before the country's devastating earthquake caught the world's attention.
In fact, by the time the deadly 7.0 magnitude tremor had leveled a good portion of the country in January 2010, the Academy Award-winning writer, director and producer had already established Artists For Peace and Justice (APJ), a non-profit organization that serves the poorest committees in Haiti with educational programs in education, healthcare, and the arts.
He also spearheaded 2009′s BRANDAID Project, a Canada-led initiative to help artisan businesses in economically challenged communities, including Haiti.
The London, Ontario native said his personal call to alms was inspired back in 2008, after being tipped off by a reporter to the work of U.S. Catholic priest Rick Frechette, who has been working in the Haitian slums for the past two decades.
"He sounded like a superhero, and I'm a cynic," Haggis says. "I just didn't believe it."
So Haggis hopped on a plane, tracked Frechette down and stayed with him for a week.
"I was just overwhelmed with how much he was doing," Haggis recalls. "He's man who had done so much – and is doing so much – by enabling and empowering the people that he works with, the Haitians. I walked away thinking…I just can't walk away."
After hosting a Hollywood dinner for Frechette and his Haitian colleagues, Haggis decided in 2009 to help finance schools.
"Rick had a lot of these 'little street schools', as he called them, that he was building: 19 of them in the slums. I looked at his budget, and figured it took $50,000 yearly on average to run them. I thought, maybe I can sell that to my friends, but I was ridiculously unsuccessful."
Haggis sponsored some on his own, even going as far as giving away a few as Christmas gifts to celebrities with the hope that once their name was attached, they'd pony up to support the school.
"It was kind of a bastard move, and it didn't work – I raised no money at all," he says with a laugh.
When the earthquake hit, the dynamic changed.
"We got really effective because obviously the eyes of the world turned on Haiti," he recalls. "For the first time, people truly understood their level of need. It was the poorest country in the Western Hemisphere, and then it was destroyed."
Since the devastation, Artists For Peace and Justice has raised over $15 million, with celebrities like Daniel Craig and Penelope Cruz chiming in $50,000 annually, and has built Haiti's first free high school.
"If you're in the slums, you go to grade 6…if you're lucky enough to go to school," says Haggis, who visits the country as often as time will allow. "After that, you're out on the street. What options do you have with a grade 6 education in a country where there's 70% unemployment?
"I thought that was a crime, so we quickly decided to build a middle [school] and a high school. We moved very quickly: three months after the quake, we had already secured the 10 acres of school land for about $1.5 million. It's land that won't be affected by floods or earthquakes."
Haggis said the initial plan was to enroll 1,200 students, start out with Grade 7 and roll out a new grade once a year through Grade 13.
"We planned 120 kids per grade level, but 400 showed up," he said. "So we took the 400 and tripled the size of the school. Last year we were up to 2,600 kids and we'll soon have almost 3,000 when we're finished."
APJ has also established a free film school and a free audio engineering program, and supports a pair of music schools located just north of Port Au Prince.
"These kids – 95% of our alumni – are getting jobs and earning 20 times what their parents do," Haggis marvels.
He hopes to eventually expand the APJ mandate to include other countries in need, but for the moment, he has an active Haiti wish list of new facilities to pursue.
"We aren't going to solve Haiti's problems," he says. "But you look at some of those kids coming out of there, and you go well, maybe they will."
Whether you're a celebrity or not, Haggis says, "you have to walk the walk."
"I think anybody who has a voice has a responsibility to use it. It doesn't matter if you're a celebrity or if you're a banker or whatever. If you have influence, you need to use that influence."