Unscripted show of the year: MasterChef Canada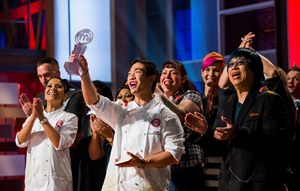 This story originally appeared in Playback's Winter 2014 issue.
When CTV had a hole to fill in its winter 2014 schedule, it had a few options: acquire an American show, do another original Canadian drama, or go for a high-profile format.
The network was keen to build off the success of Insight Productions' Amazing Race Canada, which earned an average audience of 2.8 million viewers in its second season, says Phil King, president, CTV, sports and entertainment programming.
MasterChef, a U.S. cooking competition show from Shine Productions, had recently done well on CTV, which prompted an idea: could the network replicate the success of Amazing Race with a Canadian MasterChef?
Deciding yes, the broadcaster teamed with Toronto's Proper Television to produce the series, which was helmed by Proper showrunner Cathie James.
What set the series apart was the casting, notes King. Handled by Proper, a call was issued via TV, radio and social media and delivered to Proper's online casting database. The prodco then hosted open and invitation-only calls, in which cooks presented a prepared dish to a professional taster and met with producers.
The series was a huge success. MasterChef Canada attracted an average audience of 1.8 million in season one, easily earning it a season two greenlight from CTV and making it the most-watched Canadian-produced series for the 2013-2014 broadcast season (BBM Canada data via Bell Media Sept. 23, 2013 to May 4, 2014). It even sold outside Canada to a number of markets, including the U.S.
But the series' success can be measured by more than just ratings and sales. In an era where advertisers are hungry for integration opportunities, MasterChef proved an ideal platform, with Kraft boarding as a sponsor and its products integrated into challenges, such as a food-truck challenge featuring Kraft shredded cheese.
(Although Bell Media would not reveal the value of MasterChef Canada's integrations, sources on the media agency side say that, depending on the level of sponsorships, CTV would charge upwards of $1.5 million for such a deal.)
Culturally, the prodco ensured the series featured a uniquely Canadian approach – featuring a multicultural cast and distinctively Canadian cuisine – while still holding its own as a shiny-floor studio show, explains Proper Television president Guy O'Sullivan.
"I think people really warmed to the fact that we could tell Canadian stories within that format," O'Sullivan said.