Who got their films off the ground via Indiegogo in 2014?
Ann Marie Fleming, Attiya Khan and Jeremy Lalonde surpassed their fund-raising goals to get their film projects out of the starting blocks. (Khan doc A Better Man pictured)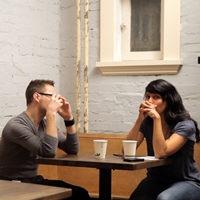 So you've been meaning to make a film, but can't figure out which doors to knock on for financing.
Thanks to Indiegogo, some major filmmakers recently got their latest projects off the ground.
Veteran director Ann Marie Fleming and Sandra Oh approached Indiegogo to raise funds for Window Horses, an animated film about a young girl of Chinese and Persian decent, and surpassed their $65,000 funding raising goal.
Attiya Khan and executive producer Sarah Polley surpassed their campaign goal of $75,000 for the film A Better Man, a documentary and call to action to end violence against women, to get to just over $95,000.
Their Indiegogo website included a video rendition of Pearl Jam's Better Man by Choir!Choir!Choir!
Amy Jo Johnson, an actress-turned-director, looked to raise $75,000 for her debut feature, The Space Between, and pulled in  $133,990.
And Jeremy Lalonde raised $122,975 for How to Plan an Orgy in a Small Town. To get there, the director promised to allow his kids to shave his beard of ten years if they got halfway to their goal by Aug. 14, and the Indiegogo site included a video of Ennis Esmer and Tommie-Amber Pirie on a Toronto street corner promoting small town orgies.
The crowd-funding platform on the tech front had even bigger gains, with the Core wireless speaker opening with a $48,000 fund-raising goal. The home music system raised $1.14 million.
The aerial photography drone Plexidrone also raised just over $1 million.