The Moblees looks to get kids moving
Kids' CBC is set to air new live-action series The Moblees from Shaftesbury and Boulevard, which encourages kids to live a healthier lifestyle.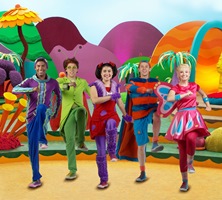 In an effort to get kids up and moving, Canadian pubcaster Kids' CBC is airing new live-action series The Moblees on CBC, beginning Dec. 22.
Geared towards kids ages three to five, the series aims to inspire healthy changes, espousing a lifestyle that includes less sedentary behaviour and more physical activity and healthy foods. It will be broadcast from Monday to Friday at 8 a.m.
Based on the theatrical production The Ohmies (Laurie Miller, Benjamin Tollefson), The Moblees is produced by Boulevard and Shaftesbury in association with the CBC.
As a multi-platform "MOVEMENT Movement," The Moblees will extend the experience beyond the TV screen to include online activities for kids at kidscbc.ca/moblees and healthy tips and recipes for parents at cbc.ca/parents, as well as in-person appearances.
The Moblees and Kids' CBC will also partner with ParticipACTION, to explore additional outreach opportunities.
- From Kidscreen