Stephen Dunn on his Sundance three-peat
The rising young director has three short films premiering at the prestigious festival, alongside four other Canadian projects.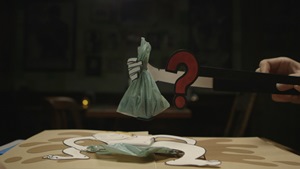 Stephen Dunn's film-career fast track continues to heat up.
The rising talent got word this week that not one, not two, but three short films he directed have made it into star-making film festival Sundance, which takes place Jan. 22 to Feb. 1, 2014.
The news comes on the heels of a big year for Dunn, which saw him shoot his first feature film right after graduating from the CFC and Ryerson University.
"Between shooting my first feature, Closet Monster, in Newfoundland this summer, working with Rhombus Media, Connor Jessup and Isabella Rosselini, and now these wacky shorts getting into Sundance, I feel unbelievably fortunate," Dunn told Playback Daily.
A series of three short films that were created and directed by Dunn will have their world premiere Sundance: Pop-Up Porno: f4m, Pop-Up Porno: m4f and Pop-Up Porno m4m. The series looks at three separate online dating horror stories, visually told through hand-made erotic pop-up books. The films were three of 60 that were selected to screen in the 2015 Short Film Program at Sundance from 8,161 submissions.
In conjunction with the Sundance premiere, Dunn and his producer Holly O'Brien hope to release the films on an online, free platform so audiences from all over the world can access the content. The filmmaking team is planning to create more Pop-Up Porno films this year to release online. The online films will feature a link at the end of the short that directs viewers to a site where they can share their own online dating horror stories.
"You always hear people telling you never to put your films online, but honestly I don't think any good has ever come out of locking up your short films. The internet is such an amazing place for filmmakers to share their work with a broad audience," Dunn said. "We wanted to make a series that can be accessible to anyone who wants to watch it for free and that is the spirit behind the series."
Also earning a coveted slot in the Sundance shorts program is Trevor Anderson's The Little Deputy, Anais Barbeau-Lavalette and Andre Turpin's Take Me. Martin Edralin's Hole and Matthew Rankin's Mynarski Death Plummet, the latter three of which also screened at TIFF.
Hole (Trailer from Martin Edralin on Vimeo)
The Little Deputy (trailer from Trevor Anderson on Vimeo)