Frantic Films finds CBC's funny bone in Of All Places
The indie also got a sixth-season pick up for its Winnipeg Comedy Festival series. (Frantic CEO Jamie Brown pictured)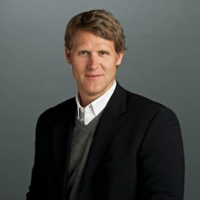 Frantic Films is busy getting CBC viewers to laugh, having gotten a sixth-season pickup for its Winnipeg Comedy Festival series and wrapped production on Of All Places, a new comedy series for the pubcaster.
Frantic will shoot five one-hours from the Winnipeg chucklefest and is working on 13 half-hours of Of All Places.
Places features comic Jonny Harris visiting 13 small towns to gauge its local culture before performing a tailor-made stand-up routine. The feel-good series touches down in many struggling small towns, and aims to spotlight local characters and lives.
Of All Places is produced by Jeff Peeler and Catherine Legge, who along with Jamie Brown are also executive producing.
The Winnipeg Comedy Festival is produced by Jeff Peeler, Dean Jenkinson and Michael Watt, with Jamie Brown as executive producer.