Director of the Year, English-language film: Michael Dowse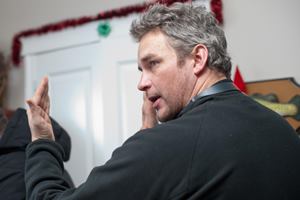 This article originally appeared in Playback magazine's Winter 2014 issue
Michael Dowse is serious about being funny.
Considered the best comedic director and the biggest box-office success currently working in English Canada, the Canadian box-office grosses for his feature films range from $171, 867 for Fubar (2002) to $4,172,651 for Goon (2011). Now, with his most recent film, The F Word, released in over 30 countries and an American studio comedy in the works, Dowse is ready for the next step in his career.
For over a decade, Dowse been creating commercially viable cinema out of distinctly Canadian archetypes: the hockey player, the suburban head-banger, the city of Toronto. But although Dowse is Canadian, he says his films aren't made to be specifically so.
"I try to make audiences laugh, to tell a good story rather than stress about being Canadian," he explains.
Dowse lives by the adage that the only person that can prevent you from making a movie is yourself. Fubar was mostly self-financed with some help from friends and family. Telefilm came in later with funds for post-production.
But had Dowse waited for government funding to come through, he says the film might never have been made. Distributed in Canada by Odeon Films and Xenon Pictures in the U.S., Fubar went on to a successful premiere at the Sundance Film Festival 2002 and it put Dowse into the game.
"It was a huge kick in the pants for English Canadian filmmaking," says Mark Slone, EVP theatrical distribution at Entertainment One Films Canada. "People who blame the lack of funding from government agencies like Telefilm as a reason to not make their film are missing the point. Filmmaking is a passion."
Fubar was made for $350,000. Dowse now works with a budget that is 10-to-15 times greater than that.
Both Dowse and Slone advocate Canadian filmmakers embrace the idea of coproductions since the budget needed to create a reasonable facsimile of American films and the quality expected in the global market runs from $9 million to $15 million.
"The F Word happened because it was a coproduction allowing for American, U.K., and Canadian actors to work together," says Dowse. Casting well-known international stars such as Adam Driver, Zoe Kazan and Daniel Radcliffe was essential in making The F Word a remarkably appealing and transferable comedy.
"But there's a double-edged sword to having American partners," adds Slone. "On the one hand you get the benefit of publicity spilling across the border, on the other hand 90% of the distribution is driven by the U.S. distributor."
The F Word premiered at TIFF in 2013 as part of a strategic move to create a strong word-of-mouth campaign. Despite overwhelming success at TIFF, the film – re-titled in the U.S. as What If – underperformed in theatres. According to Boxofficemojo.com, it took in $854,000 on its U.S. wide-release opening weekend and as of November, had a total lifetime gross of $3.5 million. In Canada, the film's B.O. gross to date was $1.16 million.
Dowse admits that their sights were set higher but adds that many of his films find an audiences on DVD and VOD, which is typical of quirky rom-coms and cult-style films.
There are a lot of potential projects in development for Dowse, but the most prominent is The Politician with Columbia/Sony Pictures in conjunction with Seth Rogen, Evan Goldberg and Vince Vaughn. The Politician is a comedy about a disgraced political candidate caught up in a sex-scandal that sends him on the lam from both federal agents and drug-dealers. The project came to Dowse through his U.S. agent UTA (United Talent Agency) and via his existing relationship with Goon screenwriter Evan Goldberg.
"This is the big time. Hollywood star. Hollywood producers. Hollywood studio," says Slone of Dowse's new gig, which sees him join Canadian filmmakers like Denis Villeneuve, Jean-Marc Vallée and Philippe Falardeau in making American studio pictures and, according to Dowse, hitting "them out of the park."
If all goes well, Dowse could be set to do the same.