Scripted show of the Year: Vikings
From Playback magazine: How Vikings topped the specialty entertainment ratings and pillaged its way into TV's overall Top 30 ratings.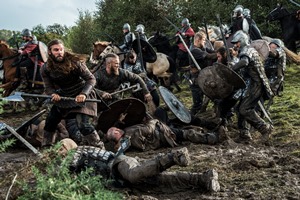 The weekly Top 30 TV ratings sheet is a fairly predictable, conventional-TV-dominated affair. The Big Bang Theory. Hockey. News. Glossy franchise procedural.
So the day History channel – of all things – burst onto the rankings with 1.1 million viewers on a Thursday night was a significant one. And quite suitably, it was a show about Vikings that battled its way in.
Created and written by veteran TV scribe Michael Hirst, the Take 5 Productions/World 2000 Canada-Ireland coproduction has become a juggernaut for Shaw Media's History channel, earning an average viewership of 900,000 (2+) in its second season.
It was the number one specialty entertainment program (non-sports) on Canadian TV two years in a row and even more impressively – considering the graphic violence – the number one (non-sports) specialty show on Canadian TV for female audiences aged 25 to 54.
And it wasn't just a success in Canada. Distributed by MGM International, Vikings airs in 52 countries around the world. In the U.S., where it airs on History as well, it was ranked the number one cable series on Thursday night across all key demos, according to A+E Networks.(Unsurprisingly, Telefilm Canada reports that the series is a hit in Finland, where its AMA for 25-to-44-year-olds was 97% above network average.)
Although it has proven itself with two seasons of chart-topping ratings, Shaw Media's SVP of content, Christine Shipton, admits that initially, boarding Vikings represented a risk: the series came with a hefty price tag and required brutal violence for authenticity.
"Our financial contribution is substantial but it's worth it," Shipton says, explaining that the broadcaster invested a portion of its CMF envelope in the series. "It was a measured investment. We all looked at it and said, this could be a nine-part event and sayonara, that's it. Well, within two episodes, we knew that every penny was worth it."
The series explicit content raised red flags at History in the U.S. immediately, recalls Hirst, but says he and the director decided it "wasn't a problem but an opportunity."
"We wouldn't do gratuitous sex like so many cable shows, and when it came to violence we would be very clever – always being  innovative and imaginative about how we showed [it] and always trying to place the audience into the scene," he explains. "I like to think that the violence we show is also authentic and not gratuitous. We don't do all that Game of Thrones spray-bloodletting, which I think is ridiculous."
The series' coproduction structure means a delicate dance between the needs of all partners involved but as both Hirst and Take 5 CEO John Weber attest – having now worked together on The Tudors, Camelot and now Vikings – having the right partners in place make all the difference.
"We've been really fortunate to have not just coproduction partners but broadcast partners who understand and are willing to work within the framework that a treaty requires," Weber says.
Hirst adds that he's only ever received one one-line note from History in the U.S., and that was a request to treat the characters with care. "A simple note, but a good one," he recalls.
Big-budget treaty coproductions such as Vikings attract their share of criticism, with some arguing that the work flows overseas fuelled by domestic tax credits. But both Shaw's Shipton and Take 5′s Weber argue that not only does the structure facilitate the necessary budget – in this case, $5 million an episode – but that the creative benefits as well.
"This is a global piece of content," argues Shipton. "You have to look at what's happening in our world these days – and the content that's rising to the very top is content that travels around the world. Yes, a lot of our Canadian stories do travel, but Vikings fits in a category of entertainment experience that's universal."
"It's so much more than just the financing that's brought to these projects," Weber argues. "They are shot in Ireland but so much of the work is done here in Canada: music, sound, visual effects, picture editing and financing. That sometimes gets a little bit lost when people say, 'the only reason you do these treaty coproductions is to get a Canadian licence fee and a good tax deal.' That's obviously a part of it, but is nowhere near the only reason why you structure these as a treaty coproduction."
The series employs about 100 Canadians, including VFX from Toronto's Mr. X, post at Deluxe and sound from Tattersall Sound and Picture; work that's quarterbacked in Canada by executive producer Sheila Hockin. To date, the series has earned 2014 and 2013 Emmy nominations for its VFX, as well as 2013 Emmy noms for sound editing and title design. In 2014, it was nominated for six CSAs, taking home a win again for its visual effects.
Directorially, 21 of the series total 29 episodes have been directed by Canadians, including Jeff Woolnough, Kari Skogland and Ken Girotti. Canadian talent includes Jessalyn Gilsig, Katheryn Winnick, Alexander Ludwig and season three features Canadians Lothaire Bluteau and Kevin Durand.
Fittingly, one of the series' secrets to success is one that was shared by real Vikings as well: gender equality. With fierce female characters that fight alongside – and even lead – men, the series wins over an almost equal amount of women, with season two skewing 56% male and 44% female with adults aged 25 to 54.
"Michael always likes writing terrific women but when you first hear it, you think it's a very male show," says Hockin. "And in a way, it is very male. But as Michael often likes to say, [the Vikings had] a more democratic, stronger justice system and equality of the sexes than our European ancestors had at the same time. The women at that time were warriors if they chose to be."
The female skew is crucial, Shipton echoes.
"The only way to really make this a hit was to make sure that the women watched it as well," says Shipton. "The actors are fabulous but it's the storytelling – how dependent the men and women were on each other. At the end of the day, it's a great soap with huge battles in the middle."
This story has been expanded from its original version, which appears in Playback's Winter 2014 issue.