eOne signs YouTube stars to original content deal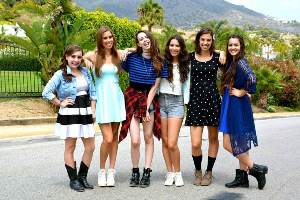 Entertainment One (eOne) announced on Tuesday it has signed sibling singing group Cimorelli to a multi-year output deal aimed at creating and distributing original content for TV, film and premium digital platforms.
Based in Malibu, Calif., the six Cimorelli sisters (Christina, Katherine, Lisa, Amy, Lauren and Dani) range in age from 14 to 24. They are signed to Universal Music's Island label, but their popularity was born and bred on YouTube, where their channel has 734.8 million views and close to 3 million subscribers.
In the new partnership, eOne plans to leverage global production and distribution networks to grow Cimorelli's success in traditional media, in both scripted and non-scripted projects.
"We see Cimorelli as much more than YouTube stars: they are tremendous creative talents with a fresh and unique voice," says Jeff Lynas, SVP of operations and business development for Entertainment One Television. "Their incredible success on YouTube illustrates their mass appeal with hundreds of millions of views around the world. There is extraordinary, palpable passion among their fan base that is akin to the influence of Hollywood stars."
In May 2014, eOne enhanced its multi-platform capabilities with an equity investment in Canadian agency Secret Location, which creates interactive experiences to launch content through storytelling for brands, advertising agencies, producers and broadcasters.
But the Cimorelli signing marks the first time eOne has entered into a development deal with YouTube stars.
"We plan to grow in this area of the business, but will be selective of the talent with whom we partner," Lynas said. "In partnering with Cimorelli, we could immediately see their potential to expand beyond the YouTube environment."
The group will continue to build its YouTube presence and create original, digital episodes with its multi-channel network AwesomenessTV, Lynas says.
The deal was brokered by Jesse Albert for eOne and Tony Novia for Cimorelli, both of whom will serve as executive producers on all projects that fall under the partnership, along with the sisters' mother, Lynne Cimorelli. Albert and Lynas will oversee the relationship for the studio.
Photo credit: Mike Cimorelli Jr.
- from StreamDaily