Playback Canadian Film & TV Hall of Fame: Andra Sheffer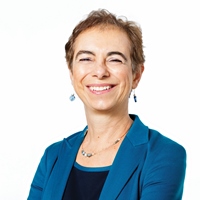 Each year, Playback's honours individuals who have made significant contributions to Canada's film and television industry with induction into the Playback Canadian Film & Television Hall of Fame. Starting in Fall 2014, Playback is featuring profiles on individual inductees in each of our quarterly print issues issues. And coming in the year ahead will be a new digital Hall of Fame archive, where anyone can learn more about this influential individuals. Here, we profile our second Hall of Fame honoree of the 2014-2015 year, Andra Sheffer. 
In Canada's screen industries, is there any bigger compliment than to say someone is an outstanding administrator?
Our industry is built on stacks and stacks (and stacks) of paperwork. Tucked in that paperwork are people's hearts and souls, dreams, fears, and dollars painstakingly raised from parents, friends, colleagues and strangers.
So when Screen Composers Guild of Canada executive director Maria Topalovich lists "outstanding administrator" as one of Playback Hall of Fame inductee Andra Sheffer's top qualities, it's not to diminish her considerable skill set.
It is, in fact, the highest of compliments.
In Sheffer's long and distinguished career in the Canadian film, TV and digital industries, her keen judgement, diplomacy and tact have, by any measure, made the industry a better place.
Under her leadership and guidance, the Independent Production Fund (IPF) and the Bell Broadcast and New Media Fund have garnered international reputations for cross-platform and digital content funding. Further, these funds (as well as the COGECO Fund, of which she is executive director) have set a standard imitated internationally, particularly in Europe.
Perhaps most indelibly made is her mark on Canadian content overall. Commissioned to set up the first Canadian Audio-Visual Certification Office (CAVCO) office in 1974, she, along with colleagues Dinah Hoyle and Pat Ferns, devised the first 10-point Canadian content ranking system, which stands more or less the same today.
And then, as managing director of the Festival of Festivals (now TIFF) in 1978, she and Topalovich, whom Sheffer had just hired, set out to transform the Canadian Film Awards into the Academy of Canadian Cinema and Television (incorporated in 1979) that ran two new industry awards: the Genies (1980) for Canadian film and the new Geminis (1986) for Canadian TV.
"She seduced me into that job!" laughs Topalovich, who went on to an over 25-year career with the ACCT. "We look back and we wonder how we did it because we really didn't have any help."
Of her longtime friend and former colleague, Topalovich says Sheffer possesses four fundamental skills required of a successful industry builder: her administration prowess, keen budgeting skills, excellent problem solving and masterful long-range planning.
All of these, Topalovich recalls, were on display when Sheffer had to run the first-ever Gemini awards broadcast ceremony without a broadcaster, thanks to a strike at the CBC just weeks before the inaugural event.
"With the help of Citytv – Jay Switzer was our angel – they put together a network [of] Citytv stations and CBC affiliates, other independents, some CTV affiliates. It was a very creative, never-put-together-before network. It was national. And she and Jay did it."
Following her departure from ACCT, Sheffer took on the IPF in 1991. Before long, she was also steering the COGECO Fund and in 1997, the Bell Fund too (from which she recently retired). Combined, these three funds under Sheffer's oversight have contributed over $260 million to Canadian content production.
In the early days of digital, she recalls, it was tough to convince broadcasters it was "okay" to not only put content online but create it as well. It was the money that turned things around: the funds' contributions reduced the risk for broadcasters, allowing a nascent digital industry to form.
Sheffer and her teams went far beyond simply approving grants. Prioritizing professional development, knowledge sharing, resources and incubation, Sheffer and her team cultivated a learning culture.
"All the funds ask producers to report on the hard lessons learned, which we collect and share with the industry so others can benefit from them," she explains.
Jill Golick, president of the Writers Guild of Canada and creator of Ruby Skye P.I. (an IPF-backed web series), emphasizes the role Sheffer has played in building Canada's digital content industry.
"By championing new media creators, testing new business models and backing innovative proposals, Andra has helped to build the burgeoning Canadian digital entertainment industry and has put us on the map as the place to finance cutting-edge digital projects," she describes.
Ever modest, Sheffer points back to the long list of producers she's worked with as critical to her success in leading the three funds over the years.
"It's the industry that fed me," she says. "By listening and absorbing, I grabbed hold of those gaps in the industry to design new programs, get boards of directors behind them, change mandates, do new things and continue to evolve the funds and push ahead."
Today's multi-platform universe has created a high demand for original digital content and thanks in no small part to her efforts, both the Bell Fund and the IPF helped push Canadian producers above and beyond this curve of demand.