Human Town takes ComedyCoup prize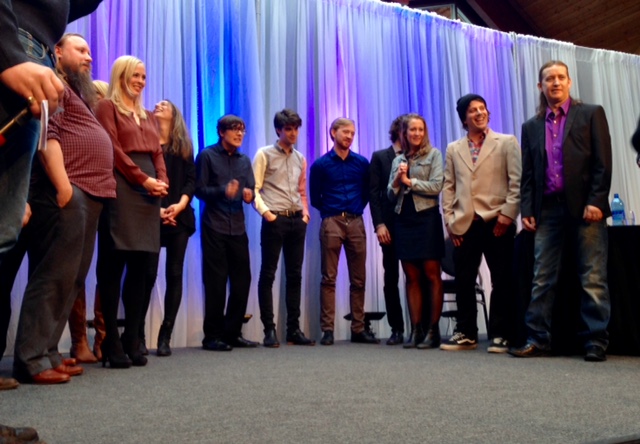 Leave it to J. Joly to turn a festival pitch competition into a "primetime piss up."
The frontman, founder and CEO of CineCoup Media took the stage Saturday afternoon at the Whistler Film Festival to MC the final-five countdown for the ComedyCoup accelerator program.
Teams from across Canada had the opportunity to get up in front of a packed house to show off their project and defend it to a panel of judges that included legendary producer Dan Goldberg, CBC senior director of comedy Michelle Daly, Buck Productions' CEO Sean Buckley and "superfan" Sheldon O'Meara.
And out of the melee, a winner emerged: Vancouver-based sketch comedy troupe Human Town, pitched by Kajetan Kwiatkowski, Daniel Doheny and Kane Stewart. Presenting a serialized sketch comedy show based on an Ork fantasizing about life in a "human town," the team confidently told the judging panel they were "ready to hit the ground running" with a six-ep series "ready to go."
They receive $500,000 in production financing and a 30-minute slot in CBC primetime – which, ostensibly, could or could not lead to bigger things. The series will move into the development process with CBC Television and program partner Just for Laughs, with a target broadcast date in fall 2015.
However, Human Town was not the only pitch to impress the judges. Prior to the big reveal, the CBC's Daly announced that the pubcaster would put another CineCoup final-five competitor, Depflies, immediately into development.
A hybrid French-English show based on the young owners of a depanneur (corner store) and the bizarre mix of characters that hang around it (or, "depflies"), judge Sean Buckley noted the series potential for a true national audience due to its language mix.
The Depflies team also noted that the different characters could be used to market the show in different markets: the French-speaking characters in Quebec and English-speaking characters elsewhere.
Not making the cut, but earning plenty of audience and fan support was Charlie and Yoni, a Broad City-esqe series about an aspiring actress and #LifeAfter30; Wharf Rats, about two dysfunctional brothers trying to make it as fisherman on the East Coast and Wilderness Man, an entertainingly bizarre environmental-themed concept that segued between issues in the real world and the fantastic reaction of a bearded man of the woods.
Although there could be only one winner, there were plenty of takeaways for aspiring comedy creators from the judging panel, which consistently questioned projects' ability to successfully extend a concept past a pilot and marketability in a country as vast and regionally disparate as Canada.
Future pitchers take heed: one-note ideas may work well on YouTube, but to truly impress programmers like Daly, demonstrate how your series can live beyond a trailer and into what could eventually be a 22-episode-a-year, five-season hit.