Whistler goes rock and roll with Murray Foster's debut feature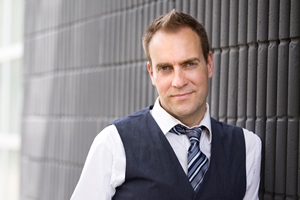 Rocker-turned-film-director Murray Foster is pretty clear about how he'll secure the right distributor for The Cocksure Lads, which had its world premiere at Whistler on Saturday night.
"You want someone who loves you and is your champion," Foster told Playback Daily.
That strategic certainty comes from Foster already having a champion for his debut feature in his parents, back in Midland, ON.
"They love the movie, and they've seen it and they've shown it to their friends," Foster explained.
If friends come over for dinner at the Foster home in Midland, they're directed into the basement for a screening of The Cocksure Lads.
"They've had 12 screenings. And that wasn't even the finished product. That was a rough cut," Foster added.
Now he needs to impress a wider audience for The Cocksure Lads to have a life after its festival circuit run out of Whistler.
The film portrays a British band arriving in Toronto for their first-ever North American tour and within ten minutes get into a fistfight and break up.
And they don't tussle over a girl.
Royalties.
It happens a lot in rock and roll, apparently. And Foster would know as a veteran of Great Big Sea and Moxy Fruvous, the band he formed with Mike Ford, a Cocksure Lads collaborator and now-disgraced former CBC radio host Jian Ghomeshi.
Every band has that royalty discussion, he explained, and it always involves giddy young people imagining they're on the brink of stardom, and so why not start dividing up the coming riches.
"The stakes in their minds are so high. It's 'if I give 5%, that means I'm giving up millions of dollars,'" Foster explained after seeing legal papers served amid tears and yelling and accusations of treachery.
For dramatic impact in The Cocksure Lads movie, the band members don't follow U2 and REM and split everything equally.
Instead, the British lads scatter across Toronto and spend the day drinking, fighting, meeting girls, falling in love, and all the while struggling to learn what it means to be a band and, for added tension, look to see if they can patch things up before their big opening North American show.
The backing Foster received from his parents may have come in part because he's struggled as an indie filmmaker to get his movie made.
The Cocksure Lads, which Lyndon Ogbourne, who plays badboy Nathan Wylde in the U.K. soap opera Emmerdale, had a Kickstarter campaign. Foster entered the CBC's Dragons' Den to pitch his movie as a money-maker. The Cocksure Lads team also staged flash mob events and street performances, and distributed post cards on street corners.
Now Foster will debut his movie for the first time in a theatre filled with strangers. "I've yet to have that experience," the musician-turned-director says prior to the film's bow, betraying the usual opening night jitters, even though Foster is no stranger to audiences after playing over 3000 concerts.
The Cocksure Lads will had a second screening in Whistler on Sunday.