Hellions, The Forbidden Room to bow at Sundance
Two Canadian titles and two Canadian coproductions are set to screen in the out-of-competition programs at the festival. (The Forbidden Room pictured)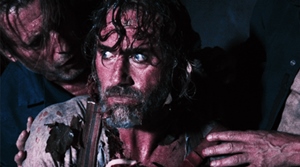 Bruce McDonald's Hellions and Guy Maddin and Evan Johnson's The Forbidden Room are among the Canadian titles set to screen at Sundance in the out-of-competition programs.
Hellion, produced by Whizbang Films and Storyteller Pictures, will screen in the Park City at Midnight program. The film will have its world priemere at Sundance. The Forbidden Room, coproduced by Phi Films, Buffalo Gal Pictures and the National Film Board of Canada, will also have its world premiere at Sundance in the New Frontiers program.
Aloft, a Spain/France/Canada coproduction on which Buffalo Gal Pictures served as a coproducer, will screen in the Spotlight program. The film previously screened at the Berlin International Film Festival. Finally, the Canada/New Zealand coproduction Turbo Kid will have its world premiere in the Park City at Midnight program. Montreal-based EMA Films served as coproducer on the film.
Sundance also unveiled the digital projects that will be featured in its New Frontiers Installations program, which will include the virtual reality project Way to Go from Montreal director Vincent Morisset and the NFB. Other Canadians with projects in the program include Francois Quevillon with Derive and The VR Works of Felix & Paul from Felix Lajeunesse and Paul Raphael.
Canadian films set to screen in competition at Sundance include Sophie Deraspe's The Amina Profile and writer/director Francois Delisle's Chorus.
Photo credit for The Forbidden Room image: Galen Johnson
Correction: The original story incorrectly listed Across Town Productions, IFC Films, Arts + Labour and Silver Snail Entertainment as the producers on Hellions when in fact it is Whizbang Films and Storyteller Pictures. 
Updated: Dec. 5 at 11:18