Channel of the year: Discovery Channel Canada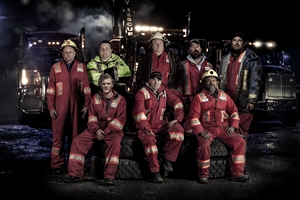 When Canadian men aren't watching TSN or Sportsnet on TV, data indicates they're watching Discovery, the number three specialty channel for the demo in the country.
Tapping into that difficult demo isn't done by buying up U.S. exports, but rather by building its own stable of programming to the tune of 200 hours of independently produced Canadian content, including recent homegrown hits like Highway Thru Hell, Cold Water Cowboys and Fool's Gold.
Revenue at the channel reached just over $100 million in 2013, with $51.6 million in national advertising and $36.9 million in subscriptions, with 7.7 million subscribers. That makes Discovery the most-profitable non-sports specialty channel for Bell Media, according to CRTC data. According to the same data, the channel also increased its Canadian production budget year-over-year, spending $49.3 million in 2013, up from $43.3 million the previous year.
Paul Lewis, president and general manager Discovery Channel Canada, has been with the channel since its inception in 1995 and says its Canadian programming has become a significant source of ratings strength.
"The content has changed enormously since we launched the channel," he says. "It was all about natural history when we launched and since then we've moved into science, technology and adventure, as well as reality. The strength that has been consistent and grown over the last 20 years is our Canadian programming strategy."
The channel's increasing allure to male audiences has been noticed by advertisers, says Trevor Walker, an executive with Toronto-based media agency OMD. He says not only has Discovery become a place advertisers can reach the notoriously hard-to-reach-outside-of-sports male demo, but that its co-viewing programming is strong as well, increasing its value to national brands with broad target audiences.
According to internal research from Bell Media, Canada's Worst Driver, produced by Toronto-based Proper Television, is the channel's best performer for the co-viewing audience. Also reaching both women and men successfully are Highway Thru Hell, produced by Great Pacific Media, Gold Rush from Raw TV and Original Productions' Deadliest Catch.
The channel's sweet spot remains men 25 to 54 and its success in reaching the demo has meant an increased rate of advertising integrations, with recent partnerships like Nissan aligning itself with the always popular Shark Week through exclusive online programming and Toyota placing its vehicles into Highway Thru Hell.
Successes this year on the television side have included the comedy-documentary Fool's Gold from Essential 11 Television Canada, which revolves around a crew of miners looking to strike it rich in Northern Ontario, and Highway Thru Hell, which hit the Numeris top 30 list the first week of September.
The show's season three premiere was up 80% over its season two bow, with average viewership for the series coming in at 695,000 overall and 168,000 for men aged 25 to 54.
Meanwhile, Cold Water Cowboys from Paperny Entertainment brought in 564,000 average viewers for its premiere in February, making it the third-highest series premiere on the channel to date.
"The major strategy continues to be focused on our core audience and giving them a combination of programming with high entertainment value as well as good takeaway information," says Lewis. "We want to be unabashedly Canadian in our approach."