CraveTV to launch Dec. 11 for 'price of a latte'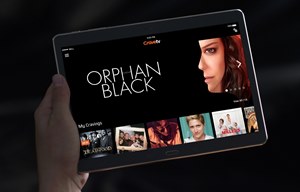 For $4 a month, or the price of latte, Bell Media is betting CraveTV, to launch Dec. 11, will stop cord-cutting and battle Netflix Canada with a TV-series-only streaming service of its own.
CraveTV, which requires a bundled TV subscription from an authenticated cable provider, will be part of Bell Media's other VOD offerings for Bell Fibe and Bell Satellite TV.
The new SVOD will also be distributed via Eastlink, Optik TV, Bell Aliant FibreOP TV, with Northwestel and other CCSA members to follow.
The broadcaster isn't looking with CraveTV and its discounted $4 a-month price tag to be disruptive, and instead will offer TV lovers an add-on treat as it continues to build out its digital pipeline.
Bell Media also announced Tuesday a "Canadian first-look strategy," which will see episodes of Bell Media's original Canadian series premiere on CraveTV 24 hours in advance of their network television premieres; it will also premiere Corner Gas The Movie ahead of its TMN and CTV debut.
Original productions are part of the roadmap and  potential projects are being considered, says Mike Cosentino, SVP of programming at Bell Media.
"We have already circled a couple of projects we have in development that we think could be perfect as originals for CraveTV. Phil King is leading our independent production strategy," Cosentino says.
CraveTV, which has done SVOD rights deals with Hollywood studios and other TV suppliers, will launch with over 10,000 hours of TV programming, with no movies and kids fare as on Netflix Canada and shomi.
For $4 a-month, or possibly free for BCE's high-tier customers if the phone giant follows the lead of U.S. cable and phone giants, CraveTV is cheaper than Netflix Canada and shomi.
CraveTV subscribers can download TV content via a set-top box and on iOS and Android-powered smartphones and tablets via the CraveTV app, game consoles and online at CraveTV.ca.
The service initially will be ad-free, but will possibly be introduced in the future.
- with files from Melita Kuburas, StreamDaily