Diamond Tongues headed to Slamdance for world bow
The indie, co-directed by Pavan Moondi and Brian Robertson, joins the Park City, Utah competition lineup in January. (Diamond Tongues star Leah Fay Goldstein pictured)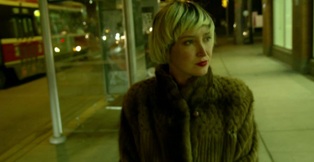 Writer/director Pavan Moondi's second feature, Diamond Tongues, is to receive a world premiere next month at the Slamdance Film Festival.
The Park City festival will launch the indie, which stars Leah Fay Goldstein of Toronto indie band July Talk, Adam Gurfinkel, Nick Flanagan, Noah Taylor and Leah Wildman.
Diamond Tongues, co-directed by Moondi and Brian Robertson, follows the ups and downs of an aspiring actress (Goldstein) struggling with professional and personal crisis.
Jaret Belliveau and Matthew Bauckman's Canadian doc Elliot at last year's Slamdance won the jury prize for best documentary, and Simon Mercer's Glass Eyes of Locust Bayou won for best documentary short.
The 2015 Slamdance Film Festival, which spotlights low-budget indie fare, in contrast to Sundance and its focus on big-name stars, is to run from Jan. 23 to 29, 2015.