Playback's Person of the Year: Barbara Williams
Williams, recently named Shaw Media president and EVP broadcasting, has risen to the top of a major Canadian broadcaster.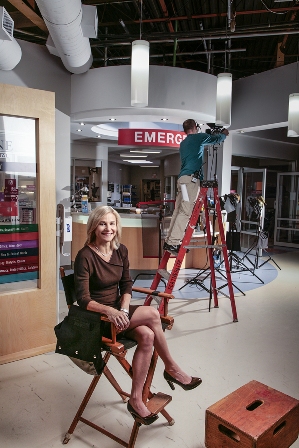 Barb Williams, recently named Shaw Media president, has risen to the top of a major Canadian broadcaster.
But it is hard to imagine a more challenging arena for an incoming boss of Canada's second largest TV network.
Williams, also promoted to EVP of broadcasting, takes the helm just as the global TV and online video market is in the throes of major upheaval as Netflix, Hulu and other other digital platforms steadily colonize TV audiences.
That prospect might alarm another broadcaster who imagined kicking back at this stage in their executive career.
But not Williams, who has been with Shaw and its predecessor CanWest for  just over nine years, and now oversees Global Television and 19 specialty channels.
"I don't think I ever thought [my career] would get easier. I just kept thinking what I was doing would get more interesting," she told Playback.
Well, Williams certainly lives in interesting times.
She sees Netflix and other new digital players changing the game, but not its probable winner.
To keep pace with the digitally led, globalized entertainment business that lies ahead, Williams' goal is reinvention.
"We have been afraid before. My career has taken me through many evolutions of this business, through many changes, when the specialty world came, when the internet world came. Our demise has been predicted over and over again," Williams said.
"And we've always risen up through it. And I have every confidence we will again," she added.
Williams insists Shaw has already been busily inventing and reinventing by launching new channels like H2, Lifetime, DIY and DTOUR, investing in new digital apps like Global Go and History Go and now launching shomi with Rogers Media.
"It's not like we've just been static for 20 years and suddenly this year we have to change. We have been in a constant change and listen, and innovation and launch, mode for decades now," she said.
During that period, Williams held senior posts like SVP of lifestyle programming at Alliance Atlantis Communications, VP and general manager of Toronto One, and leading then Canwest Global Communication Corp.'s acquisition of U.S. series and production of Canadian shows as EVP of content.
Then, four years ago, Shaw Media bought CanWest Global out of bankruptcy protection and kept Williams in charge of content under the late Paul Robertson, who had been network president since 2010.
The broadcast game is getting more complicated, but Williams insists Shaw Media has not hit reset because the game is still to identify and offer viewers hits, even if social media and YouTube increasingly figure in that hunt.
"At its core, we still are in the same business of trying to find the shows, the longer-form content that people will get excited about and come back to time and time again and talk about with their friends and family, and feel a connection to and be driven by emotionally," she argued.
That said, hit shows no longer hinge on one night's ratings.
"A hit no longer has to be a hit in the moment. There's lots of time for something to be a hit. The fact that it's a hit the night it goes out on broadcast TV, that's always fun. But that in itself isn't the whole story anymore," she said.
Williams adds that beating your Canadian competition is also no longer enough.
"Our competitive set keeps changing. It used to be a more definable set of players and you understood and knew your competitors really well. That's changing. Netflix has changed the game that way, as have other OTT and other digital players," she said.
The data crunchers also have arrived as building and monetizing audiences today calls for slicing and dicing online video alongside desktop and mobile advertising, rather than just going big on glossy U.S. primetime shows and selling brands on ratings.
"We really are feeling the impact of changing advertising," she explains.
The opportunities advertisers now have to access mass audiences and the new data sets driving media buying are all putting traditional ad models in the hot seat. Measuring and monetizing cross-platform broadcasting are proving to be huge challenges for companies like Shaw Media.
"Those [issues] are putting big questions in front of us, including how do we, as a Canadian company, claim that world of data and knowledge? That is a huge step beyond what BBM Canada [now Numeris] can offer," she added.
Ironically, as the global content marketplace becomes ever more crowded, the quality and quantity of Shaw's Canadian content, which includes Rookie Blue, Vikings, Lost Girl, Remedy, Top Chef Canada and Continuum, has never been more important.
"One of the things our team has been most proud of in the years we've worked together is the dedication and success we've had with our Canadian content. That's been an enormous driver of the specialty channels," she said.
Now, if only she had the foresight of Continuum's time-travelling cop Kiera Cameron: with so much in flux in Canadian TV today, that would be a prized skill indeed.