Coming Soon: Tru Love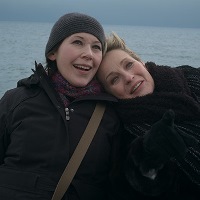 Coming Soon, a new editorial feature from Playback, will highlight the distribution strategies around soon-to-be released Canadian films. In the first story in our series, we speak to IndieCan Entertainment's Avi Federgreen about his releasing strategy for Tru Love.
The film: Tru Love
Distributor: IndieCan Entertainment in Canada; U.S.-based LGBT film specialist Wolfe Releasing is distributing internationally.
Production credits: Writers/directors Kate Johnston and Shauna MacDonald, executive producer Chris Agoston, producers MacDonald, Johnston and Chris Luckhardt and coproducers Matthew Gorman, Jessica Adams and Vanessa Chiara. Johnston's shingle TomGirl Films produced Tru Love.
Theatrical run: Tru Love opens in Toronto on Jan. 23 at the Carlton cinema. Plans are currently in the works to get it into independent theatres across the country, in either week-long or limited runs.
Additional windows: After the film has its theatrical run, Tru Love will be made available to the various VOD services in Canada as well as on iTunes. No date yet has been confirmed for a VOD release of the film, but it will likely be in late spring 2015, said Avi Federgreen, president of IndieCan Entertainment. A physical DVD of the film will be produced, and IndieCan is currently seeking a broadcast sale for the film.
Target audience: Women, the LGBTQ audience. However, Federgreen noted Tru Love is a crossover film with wide appeal, with Huffington Post UK listing it as one of its top 10 films of 2013.
Marketing strategy: IndieCan is reaching out to the LGBTQ press in Canada to promote the film, as well as mainstream media. Social media platforms will be used, as well as outreach to women's and LGBTQ organizations. The film will likely also benefit from word-of-mouth marketing, Federgreen said, as it screened at numerous LGBTQ film festivals and won many awards, including best international feature and best actress at Film Out San Diego.The film is distributed internationally by Wolfe Releasing.
What makes this film unique? The film tells the story of a May-December romance between two women, a theme that Federgreen notes hasn't been seen in many other films. He also highlighted the film's strong acting, writing and direction.
Budget/financing: Tru Love is a micro-budget film financed with a combination of private investment and an Indiegogo campaign, which raised $20,000 from 158 funders.