Project Latte unveils SVOD rights deals behind sci-fi slate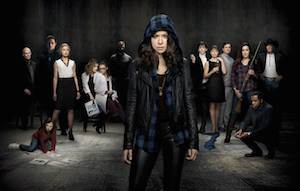 The battle for Canadian eyeballs online heated up Wednesday as Bell Media's SVOD code-named Project Latte unveiled its sci-fi drama slate.
The latest content deals for the streamer, which is set to launch in December, include Arrow and The Flash headed to Project Latte as part of a deal with Warner Bros. International Television Distribution.
And Project Latte acquired the SVOD rights to all six series of Star Trek, or 726 episodes over 30 seasons, and Twilight Zone as part of a separate deal with CBS Studios International.
Other rights pick-ups included Orphan Black coming to the TV-focused SVOD as part of an overall deal with Temple Street Productions, a deal with Frantic Films bringing the comedy horror series Todd & The Book of Pure Evil, and 108 episodes of the BBC cult series Doctor Who being made available to Canadian binge-viewers via a deal with BBC Worldwide.
Project Latte will also feature for online catching up the homegrown Bitten drama, and The Killjoys after that sci-fi drama, also from Temple Street Productions, bows on Space.
And Bell Media grabbed the online streaming rights from Shine Group to Utopia, the British conspiracy thriller that earned an International Emmy this week.
And FremantleMedia International sold Project Latte the SVOD rights to the BBC Merlin series, while the cop fantasy Grimm comes via a rights deal with NBCUniversal and Teen Wolf will stream on the upstart portal via yet another deal with MGM.
Project Latte will launch with TV programming, not movies, and be available to all Canadians via set-top boxes, apps and the internet pending agreements with participating TV providers. The final name of the SVOD service will be unveiled when it is formally launched.