Bell Local commissions scripted series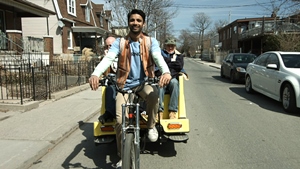 Local TV may not be the sexiest part of the television industry, but in an era of overabundant, globalized video content, it can offer something few others can: hyper-local content.
As such, Bell Local, the local programming service run by Bell Fibe, is now commissioning scripted series, the first example of which debuted this week.
From Toronto-based Crazyshirt Productions, Touring T.O. follows two friends and an intern who run a rickshaw tour company that takes tourists to various unique and obscure landmarks in Toronto.
The first three episodes of Touring T.O. are now available on Bell Local, with one new episode rolling out each Monday until all eight episodes are live.
Launched in September 2013 Bell Local is an on-demand powered channel accessible on Fibe TV through its VOD menu or via channel 1217 on the service. The service was created by Bell in compliance with the CRTC's local TV programming conditions for a BDU licence and currently operates in Toronto and Montreal. As a community-based service, it also offers assistance to local producers that includes financial assistance, camera equipment, crew and studio facilities.
Crazyshirt Productions is promoting the series via social media, said Crazyshirt's Shawn Ahmed, who wrote, starred in and produced the series. Bell Media will also promote the series via social media and through partnerships with the locations featured in Touring T.O., such as Coach House Books and Fort York. Bell Local plans to expand to more traditional marketing and publicity for programs in the new year.
While the channel had previously focused on commissioning and acquiring unscripted content, Touring T.O.'s focus on Toronto landmarks made it a perfect fit for Bell Local's programming mandate, says Ian Daffern, producer with Bell Local.
"It was something we took a chance on, but we were rewarded with it," Daffern told Playback Daily.
The budget for the first season of Touring T.O. was about $10,000, Ahmed said. The series was financed with a licence fee from Bell Local, which also contributed colour and audio post-production services to the project.
Along with Ahmed, Touring T.O. was produced and written by Scott Leaver, who also stars in the series. Stephen Papadimitriou served as producer/director on Touring T.O.
While the series is currently only available on Bell Local (the pilot will also be featured on YouTube), Ahmed does have a broader distribution plan for the series, adding that Touring T.O. would be particularly well-suited for inflight viewing on Canadian airlines.
"We always thought in-flight content is where this could live really well," Ahmed told Playback Daily. The producers have approached some distributors with the idea and have so far received positive response, Ahmed said.