Staying on brand with TV digital companions – Part 3
"It was truly a difficult deliberation. And it came down to what felt on-brand at the end," SundanceTV exec Drew Pisarra told Merging Media 5 Digital Extensions Story Lab competitors.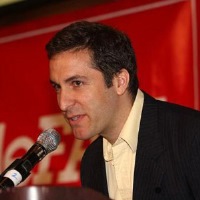 This is part two of a three-part series on Merging Media's Digital Extensions Story Lab: read part one here, and read part two here.
It's late Friday afternoon and Bridget Hill and Lee Shorten are handed a microphone and given five minutes to pitch an online storyworld for SundanceTV's The Red Road cable drama they created over two days of furious collaboration.
They're looking to out-schmooze three other teams in front of four jurors at the climactic end of Merging Media 5′s Digital Extensions Story Lab competition. The prize: SundanceTV possibly using and promoting any ideas and materials generated by the winning team.
It's a team project, but Hill becomes the main pitch person, telling the jurors about Hitchhike: The Red Road, a digital game where you hitchhike through a "claustrophobic, edgy, trapped, prone to violence" Walpole, New Jersey, the setting for The Red Road TV series.
The dark, edgy multi-platform game calls for users to answer challenging questions about race, religion, sex, betrayal and death. Besides being measured via a moral compass against other users, the final reward is to catch a ride with a Red Road TV series character.
Team three next presents its prototype, The Red Road Trip, again a multi-platform game where users make moral choices. "Sometimes the choices are bad, and sometimes worse," the jurors are told.
After all four teams have pitched their scalable ideas, the tortuous journey each took to allow technology and story to help SundanceTV engage fans with digital content between TV seasons ends with much applause and hollering from the Merging Media 5 audience.
Then the Story Lab mentors give valuable feedback to the four teams, who, despite the ticking clock, have learned over the past 48 hours about the creative and commercial potential of successful digital companions for TV series.
"I enjoyed taking the duality of the Native and town perspective, and seeing that framed across the platforms as a scavenger hunt, as a way for communities to collaborate to solve a mystery," The Estuary CEO Esther Lim told the Story Lab's team four.
Brian Seth Hurst, CEO of The Opportunity Management Co., praised team one for putting Native American mythologies at the heart of its Spirit of the Red Road digital prototype and offered feedback: "It needed to be tighter, and you needed to grab your audiences in, about the conversations they were to be have," Hurst told the team.
Digital Smash Enterprises CEO Alan Seiffert told team three, The Red Road Trip, they took a gamble by going "light and energetic and youthful" with their digital extension for a dark and brooding cable drama.
"What you did with that presentation, you were trying to telegraph energy, make this about the fans and their level of engagement," Seiffert observed.
Then Xpansive Media president Jesse Albert told team two, Hitchhike: The Red Road, they gained from having a "dramatic player" in Hill.
"You did a great job of adhering to the style guide of the show and the network. You really understood what the brand is," he added.
In the end, staying on brand proved the edge for team two in the Digital Extensions Story Lab.
"It was truly a difficult deliberation. And it came down to what felt on brand at the end. The winner is team two, Hitchhike the Red Road," Drew Pisarra, VP of digital media and marketing at SundanceTV, announced to wrap up the Merging Media 5 conference.