Finding the way into a Strange Empire
Showrunner Laurie Finstad-Knizhnik tells the origin story of her Western drama at the Canadian International Television Festival.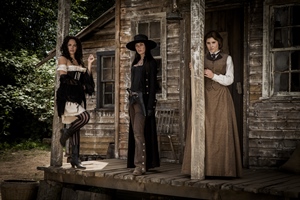 When Strange Empire creator and showrunner Laurie Finstad-Knizhnik went into the CBC to present her idea for the series to execs, she came prepared – with a 35-page pitch.
"I think it was pretty clear what I wanted to do," Finstad-Knizhnik joked during a discussion held ahead of a screening of an episode of Strange Empire at the TIFF Lightbox for the Canadian International Television Festival.
Within that pitch document contained the nuts and bolts of Strange Empire, a Western set in 1869 that tells the story of a group of women who band together after the men in their Montana-Alberta border town are murdered.
Finstad-Knizhnik told the audience she was partially inspired by the independent Western women portrayed in movies like Cat Baloo, and felt that the script would resonate with the female leadership team at CBC, including general manager of programming Sally Catto and Helen Asimakis senior director of drama, commissioned and scripted programming at CBC
"They really responded to that," Finstad-Knizhnik said of her pitch. "It was something that hadn't been done."
While preparing her pitch for Strange Empire, Finstad-Knizhnik said she spent an extensive amount of time pouring over old photographs from the 19th century, including a collection of newspaper articles and photographs from the time period. She noted that many of the challenges people faced in the 19th century are remain relevant – such as suicide or other personal tragedies – but she tried to examine how people would have faced down these problems within the confides of the time period.
"To see it in this kind of historical context was fascinating for me," Finstad-Knizhnik said.
Finstad-Knizhnik said she also felt it was important to create female characters for the series that fell outside what has stereotypically been seen in Westerns.
"I realized there were no ["real"] women in Westerns: there was the virgin, the doctor, the whore, the madam and that was basically it. It became a process of climbing out of those conventions and those stereotypes," she said during the Q&A.
The results of this approach is a Western where the heroes are all women, including a Metis gun-slinger played by Cara Gee. Finstad-Knizhnik said she was particularly worried about finding the right person to play the part of autistic doctor Rebecca Blithely.
"I really didn't think I would be able to find anyone for that part. I thought I was out of my mind writing that part," Finstad-Knizhnik said. However, when Melissa Farman auditioned for the role, she nailed every aspect of the character, including the period dialogue.
"Melissa did this auction, and she just walked away with it. It was astonishing. It was like watching Meryl Streep when she was 20. She hit all the notes with this character," Finstad-Knizhik said.
While the series has not yet officially been greenlit for season two, Finstad-Knizhik is already thinking about what elements she would like to incorporate if the storyline continues including more themes around spiritualism, which many feminists in the time period used to support their cause. She is also hoping that potential writers like what they see on Strange Empire so far and want to collaborate on season two.
"I need some people to play in the sandbox," Finstad-Knizhnik said.
The Canadian International Television Festival runs until Nov. 23. The Strange Empire Q&A is part of a regular panel series hosted by the Writers Guild of Canada, Writers Talking TV and was moderated by Denis McGrath.
Updated Nov. 21, 2014 at 12:31 to include reference to the WGC event series and its moderator