Amy Jo Johnson and the art of crowdfunding
With three successful Indiegogo campaigns under her belt, the former Flashpoint star weighs in on her strategies for turning fans into financiers.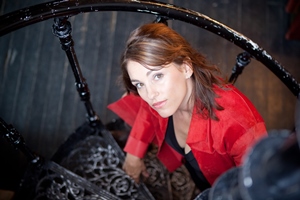 Her TV roles have seen her fight battles against humans and non-humans alike, but surely some of the toughest battles Amy Jo Johnson has faced are of the business variety. Because raising money to finance indie film is no joke.
But over the course of three successful crowdfunding campaigns, Johnson has worked out what looks to be a winning formula – and it starts with a personal touch, she says.
The former Flashpoint and Mighty Morphin' Power Rangers star is now raising funds for her directorial debut, The Space Between. And access, she's discovered, is a hot commodity.
As such, her latest campaign, which kicked off on Oct. 19, is offering perks that range from 15-minute, one-on-one Skype sessions to a painting and personal song created by Johnson that will be dedicated to the donor. As of Nov. 20, the campaign is the fourth-most funded Canadian film project ever on Indiegogo, having raised $123,390, more than $48,390 over its original $75,000 goal. The campaign hit its initial goal in 15 days and will continue to run until Nov. 23.
Here, Johnson weighs in with three strategies she's used over the course of her crowdfunding campaigns:
Personalized perks
For The Space Between campaign, Johnson not only brainstormed with her publicist Ryan Murphy and producer Jessica Adams on what unique perks she could offer donors, she crowdsourced the ideas themselves, reaching out to her followers on social media to gather suggestions. The result was a number of perks that are personalized to donors, such as the personalized painting and song incentive for those who donate $500. She also aimed to offer perks that donors could receive quickly, such as personalized video messages that she tries to deliver within three days. Such perks offer immediate gratification for donors, Johnson says, which can help keep the momentum going on the campaign.
Hire a publicist
Given that The Space Between was the biggest campaign Johnson had done to date, her team hired a publicist to help execute a media outreach strategy. Murphy reached out to publications that had mentioned Johnson and her work in the past to see if they would write about her latest endeavor (like this one!) Murphy set up about 25 media interviews before the campaign launched, and between 70 to 80 publications have mentioned the campaign in some way, Johnson said. The outreach has paid off – The Space Between was named IndieWIRE's project of the month in October, and The Globe and Mail identified the project as one of Canada's top 10 entrepreneurial crowdfunding campaigns.
Build your base
When Johnson launched her first crowdfunding campaign for BENT, she had about 10,000 Twitter followers and many of the people who supported the project were fans that had supported her throughout her career, Johnson said. As her Twitter base grew – it currently sits at about 50,000 – so did her crowdfunding campaigns, Johnson said. "For art, if you have a social media following on Twitter and Instagram and Facebook, the more success you will have," Johnson said. "I think it's really hard to go to friends and family and just ask them for money."
The Space Between is currently slated to start production in June 2015, with postproduction to be finished by the end of November of that year, Johnson said. The filmmakers hope to release the film in 2016. A distributor is not yet attached to the project, which has an overall goal budget of $250,000, Johnson said.